The Billy Plan Today - 29 Oct. 2020 - Cases Still Progressing
CoronaSTAVELOT.com
Thanks for visiting!
To translate this page, select your
language from the dropdown menu below:
Servez vous du traducteur ci-dessus pour lire cette page si besoin.
The WORLD
Daily cases continue to increase in the world.
For each person still Actively iLL in the world; 2.26 persons have recovered.
In Belgium
Since yesterday ...
Cases increased 6.06%. Most of this increase is in Wallonia, with half of he new cases today.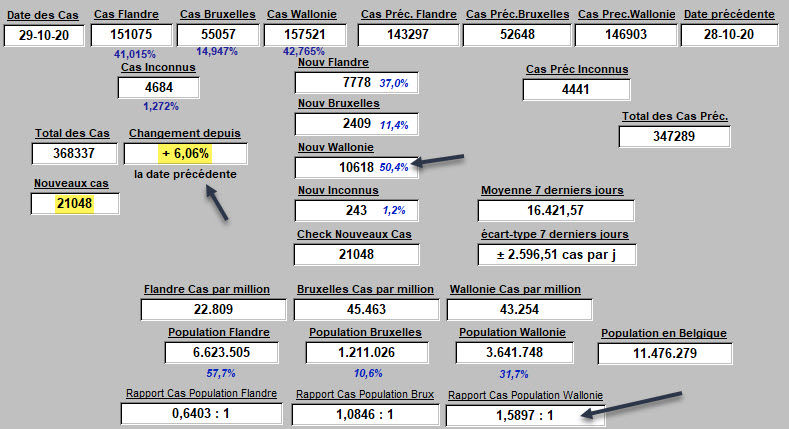 REGIONALLY
Deaths are increasing
Again, the increase in deaths is unevenly distributed, with a higher proportion in Wallonia.
Hospitals in Liège are now transferring some patients to Flanders and Germany.
CITIES LOCALLY
The total cases in the 14 towns we have been following, look like this today.
On average, a 6.84% increase in reported total cases since yesterday.
This increase looks like this graphically, per 1000 inhabitants. Overall, a 6.8% increase.
More locally, here are 5 nearby cities : the last 10 days.
And for Stavelot : reported total cases
And per 1000 inhabitants :
CONCLUSIONS:
The World, All of Belgium, Its 3 regions, but especially Wallonia demonstrate an increase in cases of SARS-CoV-2.
This is now equally true for the 14 nearby cities selected for follow-up.
The chain of transmission of this virus is far from being under control.
If Stavelot is now surrounded by sources of infection, seperating the city from these sources of disease would seem indicated. It has a 6.5% increase per day in cases. If nothing changes, perhaps 422 total cases in Stavelot tomorrow.
Sealing the borders of Stavelot is a key part of the Billy Plan.
How to best do that should be quickly discussed and arrived at. Would you like to volunteer for that Committee? If you worked at the entrances of Stavelot during the last Laetare, stopping those who would enter and collecting a 5€ entrance fee, your thoughts about how to do this are greatly needed.
It sounds like it is still very much time to raise the drawbridge, and carry on essential actions within Stavelot, to break the chain of transmission before cases in the city increase further.
A vaccine against the virus any time soon? Probably not.
Other nearby cities that have implemented a successful approach that could be copied in Stavelot?
None appear on the horizon that I can see.
It seems like every direction one turns today, one is surrounded by an increase in sources that can transmit this infection to those still susceptible.
Time to raise the drawbridge. If the Plan is put to use. If the Plan works. Stavelot can teach other cities how to do what it did right.
"Do or Do Not Do. There is no Try."
- Yoda
<<<<<<< The Billy Plan - Index to related articles
Membres qui aiment ce contenu
⨯
Inscrivez-vous au blog
Soyez prévenu par email des prochaines mises à jour
Rejoignez les 10 autres membres