The Billy Plan Today - 2 Nov., 2020 - All Souls Day
CoronaSTAVELOT.com
Thanks for visiting!
To translate this page, select your
language from the dropdown menu below:
Servez-vous du traducteur si besoin ...
We'll try to select the minimum anout of material, to give the maximum amount of information.
The WORLD
Daily cases continue to increase in our world.
Unless you leave our world, this may impact on events where you are.
BELGIUM - Cases
New cases tha last 30 days, also clearly reflect the Day of Week effect.
Always check day of week before deciding if announced new cases are in fact more or less than yesterday.
This teaches nothing about how the virus works. It teaches about how the healthcare system works.
The distribution of cases leans currently towards Wallonia being more importantly affected by new cases of SARS-CoV-2 infection.
BELGIUM - Deaths
In the last six days, deaths have been added at an average of 140 per day, it is also clear that the Walloon Region has the most each day. For example on October 30: 18 in Brussels, 59 in Flanders, and 81 in Walloonia.
14 LOCAL CITIES
Here is a table of changes for yesterday and today.
I notice that for these 14 cities, the average rate of increase in Total Cases per day diminished slightly between the two days.
Easier to grasp these increases with this graphic
5 of these 14 cities, over the past 10 days, per 1000 inhabitants. In general, the rate of increase appears fairly uniform from one city to the next. This in spite of the fact that the case numbers are clearly increasing. That is an example of the difference between a number and a rate based on an average.
But it is not uniform for all of the 14.
Here one sees the clear effect of 3 days of local celebration in Bütgenbach on October 9, 10, 11 during the weekend. Cases began to rise above the average increase, by October 15, 5 to 7 days after the festivities began.
Clearly, it is in fact possible to identify an effect on Total Cases, of the actions that people decide to take or postpone. Many in Bütgenbach probably had a good time. For some, the risk taken did not pay off.
Who can find a link between behavior in Bütgenbach, and the current problem with hospitals in Wallonia becoming overwhelmed with COVID-19 patients? Who cannot find this link? Why?
----------
Below, Stavelot, Stoumont and Trois-Ponts. An essentially parallel rise of 8.46% per day in cases per 1000 inhabitants.
An important point to be made ...
Notice today, the downward tendency in new cases announced for this day and the past 2 days, for all of Belgium.
We are Monday, so this is not too surprising if one looks again at the graph below for cases by day of week.
But notice that this trend in new cases for Belgium, a downward trend, is not duplicated in the local events. Here locally, cases are increasing, even when the numbers are diminishing at the National and Regional levels.
Just as before, when local cities seem protected from changes going on at a distance, now that has ended. This means attention should be directed very locally in taking action, much more than concentrating on applying directives formulated by a committee at a distance from us.
This also implies that even if Stavelot takes action and succeeds in breaking the chain of transmission of the virus very locally in its city, it will be closely surrounded by other cities nearby where less effective control may have been accomplished. These cities are not the enemy of Stavelot. The virus is. It's time to lower the drawbridge and control the borders of Stavelot. A challenge? Yes. Possible? Yes.
CAUTION ! BEYOND THIS WALL LIES A STATISTICAL ANALYSIS !!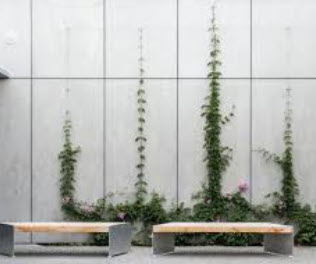 Advance at only at your own risk.
---------
Here are predicted and actual outcomes for cases announced for Stavelot since 31 October.
Notice :
The exponential model generates many more predicted cases in the coming days than the inear model.
So far, the exponential model's results are above the actual results by 6 to 11%.
The linear model's results are very close to 5% below actual.
The exponential model suggests that all of Stavelot's population will be infected by 6 December.
For the same date, the linear model suggests 1062 / 7205 = 14.7% of the Stavelot population.
As shown below, both models are very close in strength of correlation between Day Number (an equivalent of each date that's easier to work with) and the number of actual cases announced. (R² = 0.98+ in each case). This means in simple terms that if you furnish a certain Day Number, the model will produce an acceptable estimate of Total Cases on thet day, with 98% accuracy.
For Stavelot, between 14 and 23 October, the average daily growth rate in Total Cases announced was 9.756%.
For the next 10 days, 24 October to 2 November, the average growth rate in cases was 6.102% per day.
This suggests the rate of increase for cases has diminished during this second 10 day period.
We can challenge that hypothesis with Student's t-test for the two means of these growth rates.
The null hypothesis is that there is no difference in these rates of growth from the first to the second 10 day period.
Without imposing more explanation of detail, the probability that these two periods have the same result is only 57 chances out of 1000. Even though statisticians often like to see the above p-value below p=0.05, we'll accept that it is close enough to be telling us something. I would reject the null hypothesis of no difference in the two recent periods of growth of cases in Stavelot.
So I conclude that the growth rate in total cases in Stavelot decreased in the more recent period.
That should inspire hope.
It should not be taken as a reason to stop moving with speed towards all the components that make up parts of The Billy Plan (Le Plan Billy) as already presented here.
It means that we have more time to prepare. It does not mean that we should not prepare, nor does it mean that a delay in such preparation would be a good idea.
Even without the statistical control, it is clear that Total Cases in Stavelot have not yet reached a peak.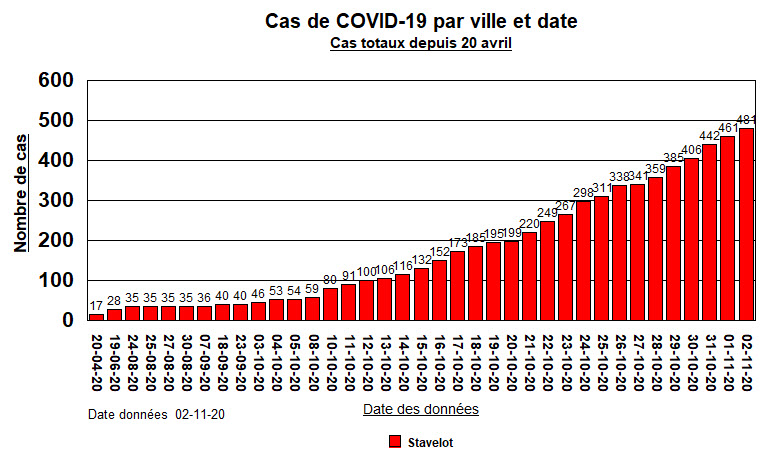 ---------
Still no response from the Minister of Defense to my letter written and sent this past Saturday.
----------
Remember also please that as we count "cases" that these are human beings with a case of infectious disease.
To forget that is to also forget our own humanity.
When that happens in Medicine, as in all domains of life, then the right purpose is quickly lost and too easily contaminated by other purposes and agendas. Always see the human in all of these numbers.
------------
Had a good laugh today? Here's one.
Stay safe. Stay well.
<<<<<<< The Billy Plan - Index to related articles
Membres qui aiment ce contenu
⨯
Inscrivez-vous au blog
Soyez prévenu par email des prochaines mises à jour
Rejoignez les 10 autres membres