The Billy Plan (Le Plan Billy) - 2 - Finding Motivation for Action
CoronaSTAVELOT.com
Thanks for visiting!
To translate this page, select your
language from the dropdown menu below:
Can we find motivation for action in today's numbers describing viral infestation in Stavelot?
Here below, Stavelot and three neighboring cities. The highest total case numbers for all, are found today.
Below, the numbers for 14 neighboring cities in Wallonia are sorted by total cases ...
We notice since yesterday, an increase in cases of 10.4% for Stavelot.
These values could be averaged over a 7 day period, but the rate of change is currently pretty fast.
So 7 days may be too long an average, missing important changes in total cases.
Let's get a bit more local: Only Stavelot, to better see its numbers.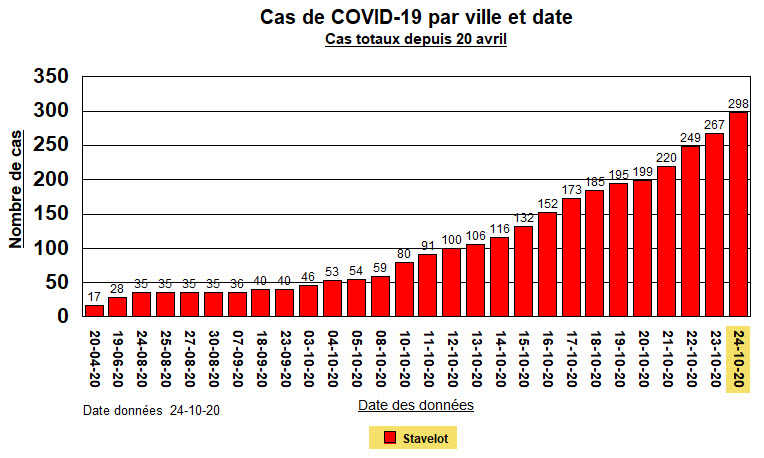 The graphic may have a nice appearance that's easy to understand.
But getting more information out of these dates and case numbers is possible. That looks like this:
Let's set 20 April (seen above) as Day Number 1. That's arbitrary, but useful.
A single number is easier to do calculations with, than a date.
So today, 24 October, is assinged Day Number 187.
That gives this :
There is a relation between the Day Number (representing a date), and the Total Cases. (R² = 0.61)
But clearly whatever happened to markedly increase cases, began after Day Number 150.
Looking at days before that time, will not help us to distinguish when this change began.
Let's focus on that period since ...
October 3 to the present :
A much stronger relationship between passage of time (Day Number) and the positive tests announced for Stavelot is here evident.
In fact, passage of days seems to account for about 99% of the observed changes in Total Cases in Stavelot.
The equation for this relation, seen above that correlation coefficient of R² = 0.99264, says that this is exponential growth.
If nothing changes to stop it, it will soon be changing very rapidly from one day to the next.
Let me trouble you with just a few more numbers.
The exponential equation let's us compare what is called the fit of the data to the described curve.
Without more detail here, actual case numbers and those predicted fit very well.
If predicting the future works here, Stavelot wil have a total number of positive tests of 428 in 4 days.
If one stays within the actual data, the rate of increase found therein is quite important.
So if we like these figures or not, do they motivate us to take action?
We'll cover in another article what actions might be appropriate.
But maybe this is a good time to just wait for all this to pass. Is that a good choice?
If we try something, perhaps we'll fail at it. Should we let that stop us?
Let's ask an expert.
Fortunately we have access to an expert who is quite well known.
He's Doctor Michael Ryan,
Executive Director, World Health Organization's Health Emergencies Program.
Listen to his words in the very short video below.
I have transcribed what he says, and also translated it into French, to make things easier for our "francophone" readers.
If you don't know Dr. Ryan, here is a bit more introduction.
"Dr Mike Ryan has been at the forefront of managing acute risks to global health for nearly 25 years. He served as Assistant Director-General for Emergency Preparedness and Response in WHO's Health Emergencies Programme from 2017 to 2019.
Dr Ryan first joined WHO in 1996, with the newly established unit to respond to emerging and epidemic disease threats. He has worked in conflict affected countries and led many responses to high impact epidemics. He is a founding member of the Global Outbreak Alert and Response Network (GOARN), which has aided the response to hundreds of disease outbreaks around the world.
He served as Coordinator of Epidemic Response (2000-2003), Operational Coordinator of WHO's response to the SARS outbreak (2003), and as WHO's Director of Global Alert and Response (2005-2011),
He was a Senior Advisor on Polio Eradication for the Global Polio Eradication Initiative from 2013 to 2017, deploying to countries in the Middle East.
He completed medical training at the National University of Ireland, Galway, a Master's in Public Health at University College Dublin, and specialist training in communicable disease control at the Health Protection Agency in London and the European Programme for Intervention Epidemiology Training."
So there you have our expert.
Have a listen. He is trying to share directions for what one should do, basd on his experience, in situations exactly like the one in which Stavelot finds itself today.
And here below, my transcriptions...
This is a transcription of Dr. Michael Ryan's message this October 24, about the importance of speed of response in dealing with viral emergencies.
Dr. Ryan worked personally in several Ebola outbreaks, and he shares what he learned.
"What we learned in the Ebola outbreaks is that you have to react quickly.
You need to go after the virus. You need to stop the chains of transmission.
You need to engage very deeply with communities. Community acceptance is very important.
You need to be coordinated. You need to be coherent.
You need to look at the other sectoral impacts: schools, security and economic issues.
So now with SARS-CoV-2 it is many of the same lessons that emerge once again.
The lessons I have learned after so many Ebola outbreaks in my career are:
be fast. Have no regrets.
You must be the first mover. The virus will always get you if you don't move quickly.
You need to be prepared.
And I say this ...
One of the great things in emergency response - and anyone who is involved in emergency response will know this - if you need to be right before you move, you will never win.
Perfection is the enemy of the good when it comes to emergency management.
Speed trumps perfection.
The problem that we have in society at the moment, is that everyone is afraid of making a mistake.
Everyone is afraid of the consequence of error.
But the greatest error, is not to move.
The greatest error is to be paralyzed by the fear of failure.
That is the single biggest lesson that I've learned in Ebola responses in the past."
------------
Traduction en français.
«Ce que nous avons appris lors des flambées d'Ebola, c'est qu'il faut réagir rapidement.
Vous devez vous attaquer au virus. Vous devez arrêter les chaînes de transmission.
Vous devez vous engager très profondément avec les communautés. L'acceptation de la communauté est très importante.
Vous devez être coordonné. Vous devez être cohérent.
Il faut se pencher sur les autres impacts sectoriels: écoles, sécurité et enjeux économiques.
Alors maintenant, avec le SRAS-CoV-2, ce sont plusieurs des mêmes leçons qui ressortent une fois de plus.
Les leçons que j'ai apprises après tant d'épidémies d'Ebola dans ma carrière sont les suivantes:
sois rapide. N'ayez aucun regret.
Vous devez être le premier moteur. Le virus vous attrapera toujours si vous ne vous déplacez pas rapidement.
Tu dois être préparé.
Et je dis ceci ...
L'une des grandes choses de l'intervention d'urgence - et quiconque est impliqué dans l'intervention d'urgence le sait -
si vous devez avoir raison avant de déménager, vous ne gagnerez jamais.
La perfection est l'ennemi du bien en matière de gestion des urgences.
La vitesse l'emporte sur la perfection.
Le problème que nous avons dans la société en ce moment, c'est que tout le monde a peur de se tromper.
Tout le monde a peur des conséquences de l'erreur.
Mais la plus grande erreur, c'est de ne pas bouger.
La plus grande erreur est d'être paralysé par la peur de l'échec.
C'est la plus grande leçon que j'ai apprise dans les réponses à Ebola dans le passé. "
----------
A situation in Stavelot that demonstrates exponential growth gives suprisingly little time to get this viral problem under control.
This is a "in the days to come" problem. Not a "in the months to come problem."
"The virus will always get you if you don't move quickly."
"Be fast. Have No Regrets."
<<<<<<<<< The Billy Plan (Le Plan Billy) - 1 - the Setting
<<<<<<< The Billy Plan - Index to related articles
Membres qui aiment ce contenu
⨯
Inscrivez-vous au blog
Soyez prévenu par email des prochaines mises à jour
Rejoignez les 11 autres membres