The Billy Plan (Le Plan Billy) - 1 - the Setting
Les articles ici, auparavant rédigés en français, sont désormais rédigés en anglais pour toucher un public plus large dans notre monde. Le traducteur ci-dessous fonctionne plutôt bien.
CoronaSTAVELOT.com
Thanks for visiting!
To translate this page, select your
language from the dropdown menu below:
A selection of results from our World, this 23 October :
Findings to underscore :
On 27 February, there were 46 466 individuals Actively iLL with COVID-19. That's 238 days ago.

Today there were 12,250,522 Actively iLL. That's a 26,265% increase since the end of February. A figure so hard to comprehend as to be meaningless. But it's real.

Until 15 days ago, for each person still Actively iLL, there were 2.5 that had Recovered from this illness. That's good news. In the past 15 days, that ratio has diminished, sliding down to reach 2.316 recovered :1 actively ill, this day. Still more than 2 to 1.

February 27, the fatality ratio (CFR) was 3.41%. Today it is 2.73%, a figure 20% below the value in February. That's good news.
All would of course hope that the global Daily Case counts would turn towards lower values and continue to diminish. The possibility of this being true has arisen several times. It has never persisted.
The image below is the best teacher of where cases of COVID-19 due to SARS-CoV-2 stand at this time. An unfortunate but undeniable fact. A summary from 188 of the 195 countries of our world.
-----------
A selection of results from the country of Belgium, this 23 October :
Findings to underscore :
Today, 16 746 new cases of COVID-19, a 6.6% increase since yesterday.
The increase is disproportionate, with 49% of the new cases located in the Walloon region.
Today was a Friday. If one compares this day's cases with the mean of new cases for all previous Fridays, today's value (16 746) is 14 times that average value (1 160 cases) for previous Fridays.
Regionally, case loads have varied over time. The current region with cases rising most rapidly is the eastern part of the country, Walloonia (in blue below) :
The small yellow stripe at the top right of the above graphic, represents positive cases (i.e., tests) where the region where the test was done is unknown. It suggests a system that is already surpassed in its ability to keep up.
Deaths due to COVID-19 are now increasing once again :
While hospital beds are still available, (and being added to), the personnel to care for new admissions has diminished and nursing and physician staffs are already exhausted. Retired and other health workers who had changed careers, are now being asked through the media to volunteer in hospitals.
While the actual fatality numbers in March and April were much higher than at present, follow-up studies have concluded that many deaths in that earlier period were not due to COVID-19. Below are results since June 9th.
The actual growth and transmission rates for this viral illness, from one day to the next, have remained essentially quite steady since early March. Some days with decreases, while days with increases slightly outnumber those. So the present result is that a constant "drip," like a water faucet into a bucket, has now filled the bucket to overflowing.
Again comparing today with all the previous Fridays :
One counts 24 growth-positive Fridays, and 9 growth-negative ones since March.
Notice that the flow rate in the video above is constant. But eventually, the bucket overflows.
And the neighbor who lives below begins to shout that water is dripping through his ceiling.
Solution? Close the tap. Close it completely. At that point, eventually the water in the bucket would evaporate. Takes a while. Someone might spill the bucket. So better to identify a place where the water can be transferred with no further damage. That's the Billy Plan (le Plan Billy).
Contributors to the present result, spilling new cases throughout our region, included lax or no travel restrictions and testing of travelers, "trying out" the effects of re-opening of schools and universities with clearly bad results, and marginally adequate application of barrier mesures, as also seen in many other countries. Recently, a new government was put in place. That served as a nice distraction for about 3 weeks to take the population's attention off the virus. A nice break from "pandemic fatique." Lots of heated discussions in the cafés until late into the night.
Nothing to date has been effective at closing the tap. Cases are increasing exponentially.
----------
A selection of results from local cities in Walloonia, selected simply for their proximity, this 23 October :
one such city, Stavelot, with a population of just over 7 000.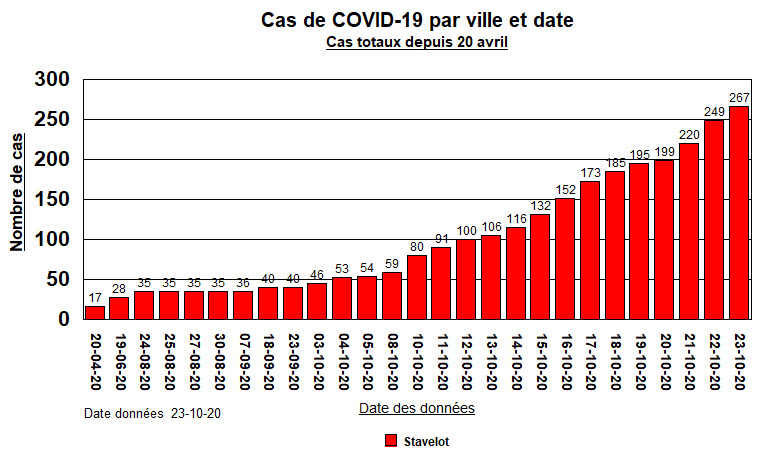 This exponential growth pattern is seen in neighboring cities as well. It's not just a very local cluster :
It represents today, an average increase of 9.7% per day in total case numbers, for this sample of 14 cities in the Liège Province.
Refining this picture with more data and more complete explanations is possible, but will probably add little to the goal here. Which was to collect a sample of current COVID-19 results at a global, national, regional and local level, and in so doing offer a status report for all four levels.
Today, Belgian government leaders have once again tightened down restrictions on citizens in several venues: sports and cultural events, closing restaurants for a month, and other "almost lockdown" measures. The personal positive test results for many government officials has caught the public's attention, especially for the recently replaced Prime Minister. She is still in ICU, but with a reportedly positive status. An earlier report that she had been discharged to home was subsequently corrected.
Another official recently spoke publicly to offer with much seeming frustration: "We did everyhting we could. What else could we have done?" For our purposes here, the question will remain unanswered.
Simultaneously, many basics of epidemilogy currently practiced in this country, are still being "tinkered " with. One example: only testing symptomatic members of the population was again affirmed, since testing centers were quickly overwhelmed. Contract tracing had been assembled then disassembled, and most recently augmented with a smartphone app, but acceptance is far from universal. Other critiques here of results to date will add little that is useful where we are. The experts have outsmarted themselves, but not the virus.
So if one is living in one of the small towns presented above, what does one notice? Ambulance sirens pass nearby a bit more often than in the recent past. But if one looks beyond the town's borders, one sees a region (Walloonia) that is on the brink of difficult times. And in fact, not a much kinder promise for the two other regions. Nearby European countries have turned "red" as well, and Belgium is #2 on the European CDC's list beneath Czechia, whom it will probably soon pass.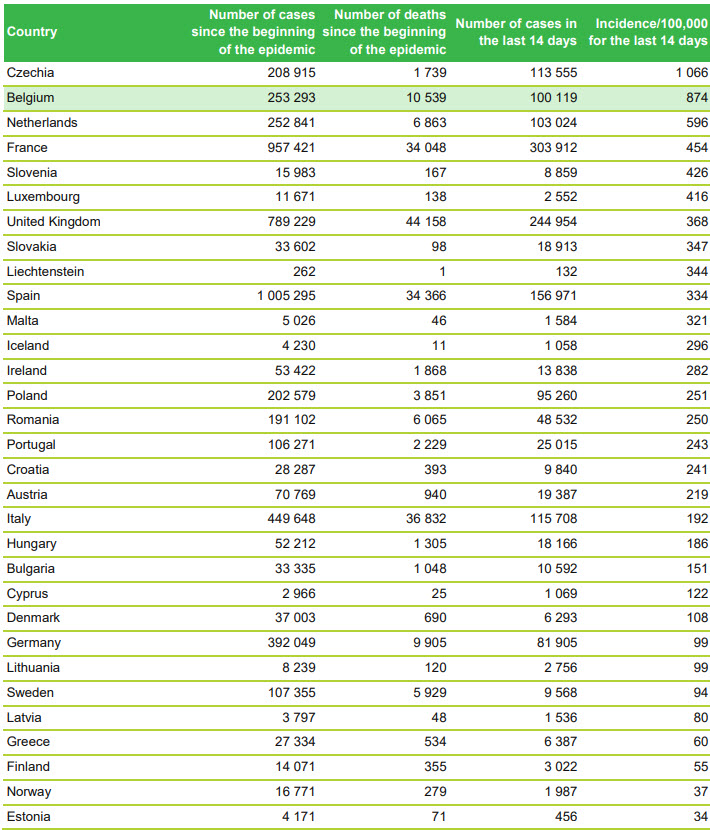 The previous pariahs of Italy and Spain now have case incidence rates that are 2 to 4 times lower than Belgium's. And while these are still not "home free," especially in Spain, Belgium is preparing to join their ranks of countries notoriously unprepared for "the big hit."
So if all those upstream "big places" (the World, the Nation, the other Regions) are in trouble still and can't offer much help or reassurance, is there anything that a "little place" like Stavelot can do to minimize calamity? Can any measures be taken to offset those policies, now proven to date ineffective, that have trickled through from the government?
The names of certain countries where success emerged as a reality appear quickly in memory: Denmark, New Zealand, Australia, Norway, the United Arab Emirates, Taiwan, South Korea and others. Tiny Andorra in the mountains between Spain and France, probably offers a clue. But are their lessons, or some parts of what they put in place, applicabe to a small town in the Ardennes, where urgent right action requires overcoming administrative inertia? And without having to travel quite so far except into the past, are other entities like The Plague, leper colonies, the 1918 Spanish Flu - also managed in a vaccineless setting - helpful for a small town seeking to avoid being overrun by, this time, an invisible invader?
A sense of urgency increasingly pervades each day. And winter las begun to prepare its entrance from the wings.
We had stopped writing here on a daily basis exactly a month ago. Just too little change to maintain interest I suppose. Perhaps now that will change. Then again, ingrained habits are hard to overcome.
And on this day, here is how the government responded to these most worrisome changes >>>>
<<<<<<< The Billy Plan - Index to related articles
<<<<< Home
Membres qui aiment ce contenu
⨯
Inscrivez-vous au blog
Soyez prévenu par email des prochaines mises à jour
Rejoignez les 11 autres membres