Sweden is not a great model of success on May 2, 2020
A few quick summary observations
... comparisons with the 25 other countries that we have been following.
Sweden's current claims and approach, and what the numbers tell us.
#11 in prevalence of these 26 countries.
Sweden's Case Fatality Ratio
Belgium is 2.5 times more troubled by Deaths, but Sweden is still among the heavy hitters.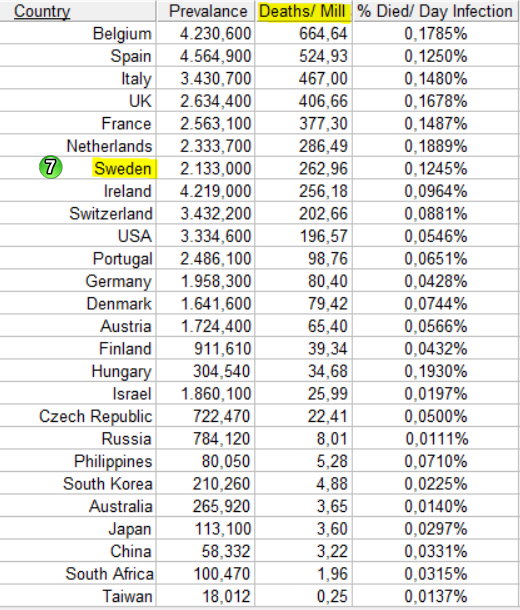 How many COVID-19 cases in Sweden have

recovered

?
Ans.: Not many. #24 from the top on our list.
More testing seems to bring better results.
Now many tests are done in Sweden, to find that next Confirmed Case?
Ans. : Not many. Or not enough.
#23 on our list.
So is the Swedish model the answer?
We think not.
On the graphic below, one column, one country.
In red : those still actively ill.
In blue : death rates
In green : COVID-19 cases who have recovered.
The goal of course, is to turn the whole graphic green with healed patients.
So how green is Sweden?
Ans: Not very.
Of their 21520 confirmed cases, 1005 recovered. That's 4.67%
We'll look elsewhere for our model country.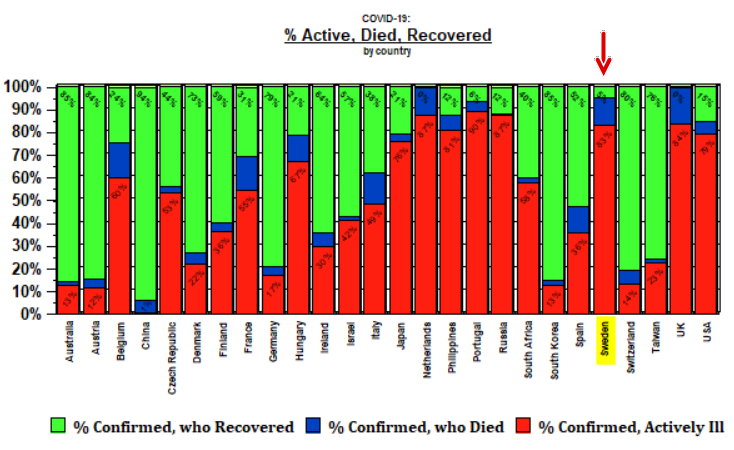 "Sweden has, unlike many other countries, not imposed any lockdown, with most measures being voluntary. The Swedish constitution prohibits ministerial rule and mandates that the relevant government body, in this case an expert agency — the Public Health Agency — must initiate all actions to prevent the virus in accordance with Swedish law, rendering state epidemiologist Anders Tegnell a central figure in the crisis. The government can follow agency recommendations, as it has with legislation limiting freedom of assembly, temporarily banning gatherings of over 50 individuals, banning people from visiting nursing homes, as well as physically closing secondary schools and universities. Primary schools have remained open, in part to avoid healthcare workers staying home with their children.
The Public Health Agency and government issued recommendations to: if possible, work from home; avoid unnecessary travel within the country; to engage in social distancing; and for people above 70 to stay at home, as much as possible. Those with even minimal symptoms that could be caused by COVID-19 are recommended to stay home. The 'karensdag' or initial day without paid sick-leave has been removed by the government and the length of time one can stay home with pay without a doctor's note has been raised from 7 to 21 days."
"Sweden's pandemic strategy has been described as trusting the public to act responsibly: instead of wide-ranging bans and restrictions, authorities have advised people to maintain good hand hygiene, work from home if possible and practice social distancing, while those over 70 have been urged to self-isolate as a precaution.[21]
Despite scepticism and criticism from a number of doctors and medical experts, as well as international news media, Sweden has defended its strategy, with Prime Minister Stefan Löfven referring to "common sense" and Tegnell saying that the strategy is rooted in a "long tradition" of respecting "free will", as well as the high level of trust and respect Swedes have for public authorities.[16] According to a survey conducted by Sifo, the population's confidence in the Public Health Agency increased from 65 percent to 74 percent between 9–12 March and 21–25 March.[22] A March 2020 survey, carried out by the same company for TV4, showed more than half (53%) of the Swedish population had trust in Tegnell, a higher number than for any of the current leaders of the Swedish political parties, while 18% said they didn't trust the state epidemiologist.[23]
The strategy was commonly attributed to Tegnell,[20] who was quoted as saying:[16]
We have so far not had very much of a spread [of the virus] into elderly homes and almost no spread into the hospitals, which is very important... We know that [with] these kinds of voluntary measures that we put in place in Sweden, we can basically go on with them for months and years if necessary. [The economy] has the potential to start moving as usual very, very quickly once these things are over.
-------------
Membres qui aiment ce contenu
⨯
Inscrivez-vous au blog
Soyez prévenu par email des prochaines mises à jour
Rejoignez les 5 autres membres