COVID-19, the situation here in Belgique : 16 April, 2020, thursday
E :

(our English version of today's report in French)
These data originate in the Belgian Government's Public Health System
Sources of data : (in French at these links)
De la SPF Santé publique
Sciensano (the better choice).
Their key numbers for today:
Their complete report (usually 7 pages on Belgium, today, 23. Had lots to explain).
Their weekly report :
Bulletin hebdomadaire de Sciensano, 9 avril
What they call their dashboard
More useful info on Belgium from Wikipedia. Quite complete and in English.
Our add-ons :
Our little map of COVID-19 in Belgium by Region.
On this map, click on any of the four icons to reveal more details: the confirmed cases, and the percentage of cases in each of Belgium's 3 Regions. Plus a fourth for Region Unknowns and feoreigners.
Regional Distribution results today
New cases announced each day
This is essentially, positive tests, as with oher countries.
Yesterday information was provided about deaths in nursing home. There, most deaths did not have a test for SARS-CoV-2. Nevertheless, this are called "probable COVID-19." So they are folded into the total cases, without a positive test.
One can also appreciate a less than smooth curve, since clumps of data that had not been reported daily as things evolved, are suddenly dumped in when received.

These are Total Confirmed Cases.
A smoother curve, because each day is cumulated on the preceding result. (The total of all the cases, each day).
Growth Factor Analysis
The above data are compared each day with the previous day's level of total cases. The difference between the two is a "New Cases" estimate. The new cases today are divided by the new cases yesterday to give a growth factor. If new cases doubled, that would be 2.0. The goal is to get below 1.0 where viral transmission will stop.
Things seemed to be gradually diminishing since confinement measures were put in place March 10 through 13 in Belgium.
Yesterday was a scary rise in growth. It most probably results in a clump of cases from other days, being added all on 1 day. Garbage in. Garbage out.
Today seemed more consistent with previous trends.
Part of the growth factor is a combined variable for transmission & infectivity. (E · p). The more contacts an ifected person has, the higher the value of E. The more transmissable the virus (Ro), the higher the probability of infection with each contact. We'll leave it at that. (E · p) shoul get below 0 if infection is no longer happening. It is the target for confinement, social distancing, hand washing, Cloroxing surfaces and door handles, masks, etc).
It too had a bit of difficulty swallowing yesterday's data. Negative values are good, though not intuitive.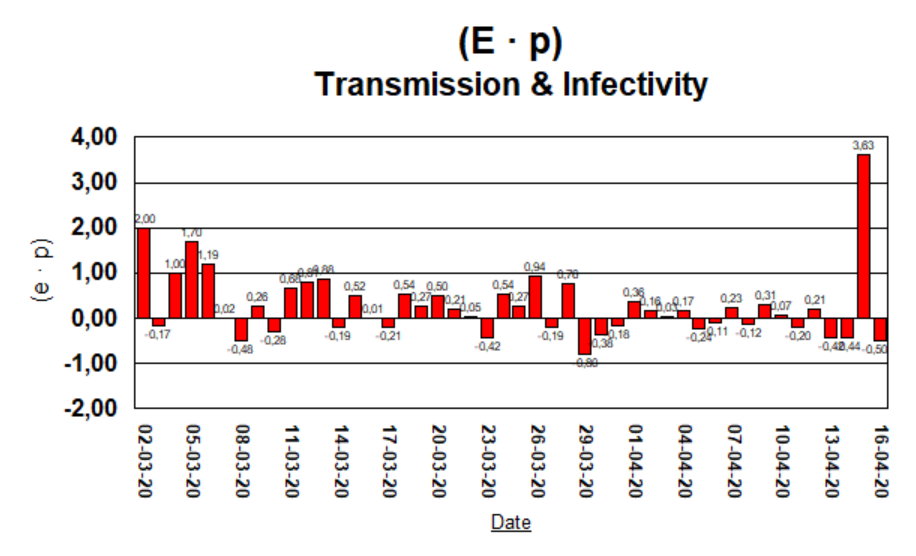 The mean value for this Growth Factor today, (1.298) with its standard deviation and calculated 90% Confidence Limits looks like this. Again, as long as it's above 1.0, exponential growth is still a possibility for upcoming days.
--------------
Deaths
Our Death Report looks like this. It shows an overall mortality figure of 13.95% .
A few days ago, this was around 5 or 6%
It also focuses on the diferences in "cases" (tests) and deaths by Region of the country. It suggested more strongly a week ago, that Deaths were on the rise in Wallonia, and less testing being performed. Again, the government determined guideline remains that tests are done for those hospitalized with the disease presumed. Also, for hospital workers who have suggestive symptoms. If negative, they can go back to work, otherwise, self-confinement at home.
Published reports for these death figures, have problems that are common. Deaths happen, and lots of related data are missing. Probably forever. In addition, death events come in to Public Health as "climps" of multiple deaths, on one line. Perhaps with the region, and an age-group, but not the gender. What is the gender of a "clump" of reported deaths? All male in the clump? Risky to say.
Death events depend on their being declared officially, which doesn't always happen within 24 hours; Far from it. Today I adjusted my database based on their results. There are deaths added from March 23rd and since. Sometimes the number of deaths for a day diminishes, or diminishes in one of the three regions. Requires either a resurrection or other explanation.
That gives results like this :
Finally, Deaths are presented grpahically in a way that suggests: "Wow a few days ago lots of deaths! But it looks like we're doing better. Lie this :
The whole page of this 1 page report, PDF
The following Summary takes data from Sciensano (Gov't Public Health), and tries to fill in some gaps.
Sample gaps: where a person died is not always known. The person's gender is not always know.
It does suggest the increase in male deaths over female deaths, but given missing data (summarized in box on left) anything could be true.
The main goal was to identify regional differences in gender and rate of testing of those who died.
Age, and many other variable, are included in Public Health's report, and not duplicated here.
The report, (without the arrows) is linked here.
--------------
TESTING
Is now in a hurry up, catch up mode.
When I calculated it out on the 11th of April, Belgium needed 204,000 tests to obtain an acceptable death rate. They were at 47% of that figure.
Another Belgian habit seems to be to test during the week, but less on weekends. Public Health says that's the same in all countries. Hopefully, coronavirus takes the weekend off.
That looks like this :
A comparison with a few other countries suggested that a relationship exists between a variable "Tests done : 1 Test Positive" and deaths per million inhabitants. As mentionned above, at a much lower death rate than actual in the country 35 per million instead of 260 on the 11th (hgher now), a target of 204,000 tests total seemed to emerge from this relationship. On the 11th actual testing was at 102, 151 total. But again, applied only to those hospitalized and symptomatic doctors, nurses and therapists.
--------------
A final bit of "no miss" information today ...
Again, these are on the "positive cases" in Retirement Homes.
So these are all deaths. As noted yesterday, 97 % of deaths in these homes (I call them Retirement Camps) were diagnosed as COVID-19, but without doing a test ! It just mostly seemed like it was COVID-19. Perhaps lots of pneumonia. Of course, pneumonia is usually (without COVID-19) the major end-of-life illness of the elderly in Nusing Homes or hospitals.
Public Health lists them as "Possible COVID-19's who died in Rest Homes." 1,838 of them.
That was followed by their report on testing positives and negatives (they might have picked one or two other colors besides green). It now begins to show the addition of testing begun in the Rest Camps.
My comment in French was :
Ce délai dans les maison de repos. N'est-ce pas honteux?
Quel message est envoyé à notre population âgée,
et à tous ceux qui prennent soin d'eux
et qui risquent leur santé et leur emploi?
Which I translate :
This delay in nursing homes. Isn't it shameful?

What message is being sent to our elderly population,
(by government policy and medical practice habits),
and to all who care for them,
and who are risking their health and their jobs,
just to send them to the morgue?
-------------
May 3rd has been set as a day to reopen schools. The message is a strong push to hurry up and get back to normal for economic reasons. That message, oft repeated with much discussion about how to do "déconfinement" (un-confining) is in full swing. It might be a bit premature. Similar discussion in other countries, but with less scary current data. Belgium has a huge Hospital Bed reserve. The number of ICU beds total, has been variously reported. But occupancy has been up and down, and if things really get into an increased growth of disease phase, will pose a major challenge is one interpretation. Other interpretations, are that things are just fine.
Here are our comparisons today of Belgium with 24 other countries for prevalence of the disease (#3), and current death rates (#2).
Prevalence sorted by Days of Infection since the virus arrived in a country
When compared with countries that have about the same Days of Infection, the % Recovered figure seems a bit stalled right now in Belgium. Focus on Italy and even Spain for comparison. More COVID-19 patients recovered than in Belgium. Why would that be?
Of course this is not a situation of virus versus each individual,
alone in the ring with the gloves on.
There is of course a third presence in the ring, but not the referee. It's the country's health care system.
Groups who rate such systems, including WHO and others in the European Union, place Belgium at about number 21 worldwide, just below Switzerland (20). USA is number 37 on that same list.
This is not the place to explore the details, but clearly, that third component plays a major role in response and outcomes observed. Some will say that there is another person in the ring for this tag team bout: the government. Strongly leading its populace towards a no holds barred appraoch to beating the virus, or stepping in to count, well after the knockout. Willingness to learn tactics from outside its country, from those who have been in the ring and won their round, does not seem to be typically Belgian, and varies greatly by Region. Belgium still doesn't officially have a government, since the elections last year. But they have pulled one together that says it must forget differences and work together. "L'Union Fait La Force." We'll see...
Belgium #2 in above Switzerland, Netherlands, France, and Italy in Deaths per million.
"An Br'er Bear, He Lay Low" might be a better message.
Our view of the world's COVID-19 challenge this day (in English) >>>>>>>>>>
Same view of the world situation but en français >>>>>>>
Les données pour Belgique, hier >>>>>
Yesterday's report on Belgium, but in French >>>>>>
Membres qui aiment ce contenu
⨯
Inscrivez-vous au blog
Soyez prévenu par email des prochaines mises à jour
Rejoignez les 5 autres membres