Belgium & COVID-19 - April 13, 2020
E :

A Summary Review

of this day's infections and outcomes.
E : is for English
F: la version en français pour ce jour, ce trouve ici.
Let's start with the Summary of Key Points, by FPS Public Health.
Data are presented each day between AM and noon. New events for the prior hours, and totals since COVID-19 arrived in Belgium: Confirmed cases, Deaths, Hospital Admissions & Discharges.
Hospital beds occupied and the change since yesterday. Same for Critical Care beds.
Their complete report includes world data that have been presented elsewhere. Here is their multi-page report (usually 5 to 7 pp) - on Belgium only. In French, but the graphics are easy to interpret.
Wikipedia has a very complete page in English on Belgium during this pandemic, quite objective.
My additions to what Federal Public Health furnishes
This map shows the breakdown of positive cases in the three regions of Belgium: Flanders, Brussels, and Wallonia. A 4th icon captures those cases where the region remains unknown. Case numbers and % of total are provided by clicking on an icon.
REGIONAL Distribution further offered below :
New cases are announced and added to this graph each day
As in most countries reporting COVID-19 information, a "case" = a positive test. Those in the population who are infected but not tested to confirm positivity, represent of course a much larger number. Estimates vary from 8 to 10 times the number of positive tests.
The positive tests vary by day of the week. Public Health says that that is true for all countries.
As of 12 April, 112,613 tests had been performed. The pace of testing has increased significantly in the past 2 to 3 weeks.
Tests are performed on severely ill patients who are hospitalized, and for their follow-up. Tests are also performed on health care workers who have developed symptoms suggesting the possibility of COVID-19. If negative, they can return to work.
Testing is not performed on the general public, or those who merely want the test. The person's private physician, contacted by phone, is the gatekeeper.
That can be summarized as
Don't need a test during the weekend.
Total cases (positive tests) reported cumulatively
Total cases by day, allows calculation of a Growth Factor, comparing each day with the previous day.
Above a value of 1.0, exponential growth of cases is still possible.
Since confinement measures began in schools on March 10, and everywhere March 12, that growth has looked like this.
Mean value for this growth factor today, looked like this :
This also permits estimations of cases and resource utilization today, or in future days :
Cases, % of population, hospital and ICU bed occupancy.
The Growth Factor can also be used to calculate a combined estimate of transmission (contacts) and infectivity (probability a contact results in infection, abbreviated (E · p)).
That has looked like this ... The goal here is 0 or below risk of infectious contact.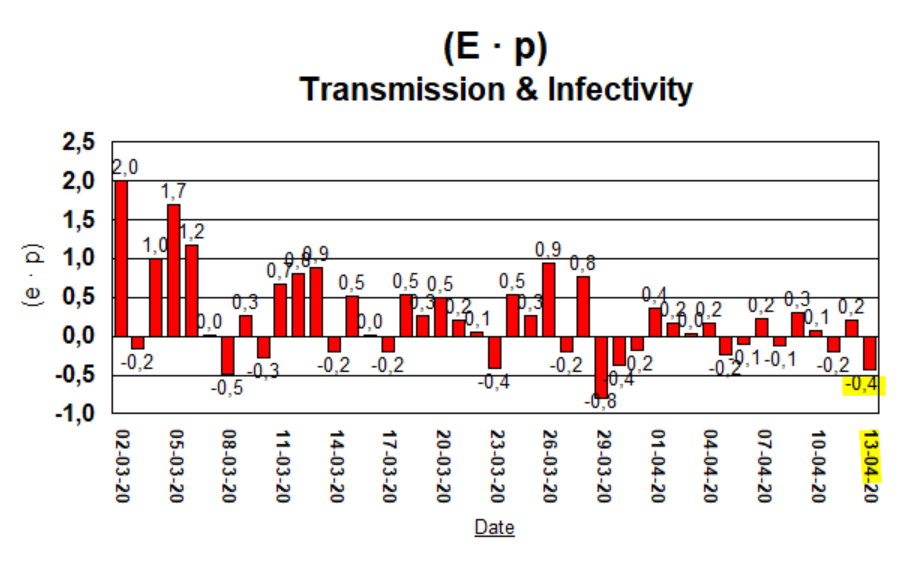 Today, for the first time, a comparison of the past 15 days, with the previous 15 days, confirmed a statistically significant reduction in this value in Belgium during continued social distancing and other methods of contact control and transmission.
That comparison gave these results : less than 36 chances out of 1000 that the apparent improvement arose by chance.
Deaths
Here, deaths and cases are divided for the three regions in Belgium : Flanders, Brussels and Wallonia.
Below, in light blue, deaths, and in light green cases or postive tests.
This report was quite concerning until a few days ago. It had suggested a higher death rate in Wallonia. Then, we are told that several Nursing Homes in Flanders, presented deaths that had been unreported.
These additions equilibrated results. Overall death rate is just under 13% and has been rising. Since a "case" = a "positive test" these are lower in Wallonia, but had been much lower last week. It suggests lower testing rates in Wallonia, among thse patients who died. A comparison with other 25 countries is given below.
Belgium is now 3rd in this group of 25 countries with COVID-19 cases. It is above France and Netherlands, and just below Italy and Spain.
Further Details on the Deceased
Clearly, a major part of the difficulty of interpretation of mortality data, is simply a reporting problem.
It suggests a strong component of overwhelm being already present.
It may help to look at prevalence data (the amount of cases per million inhabitants)
The same, sorted by days of infection since SARS-CoV-2 arrived in a country.
Here is an interesting comparison.
Prevalence ranked by Death rate per million inhabitants. In these 25 countries, Belgium is third.
While Switzerland has a higher prevalence (cases per million) than Belgium, it has a lower Death Rate, 41% of that observed in Belgium. This reminds us that the SARS-CoV-2 virus, and the COVID-19 disease that it causes, comes in contact not only with a population, but with a health care system in each country. Those systems are not equal. Belgium's is ranked n°21 from the top, and Switzerland n°20 worldwide. (USA is n°37 on the list of health care systems worldwide). France, just behind Belgium in Deaths/ million, is often rated as n°1 in health care. Clearly, COVID-19 is not the usual challenge.
At the following link is a report that covers health care system responses to COVID-19 in Belgium, France, Germany and the Netherlands. It permits some interesting comparisons. It gets one thinking in the right direction.
Since several years health system "report cards" have been available. Usually through WHO, but also other reviewers.
Of course, such differences exist not only between countries, but regionally within a given country. Here for instance are results for States in the United States.
These regional differences therefore certainly exist.

But what factors contribute to creating these differences?
Which ones can be improved?
Do such differences exist in Belgium?
-----------
Membres qui aiment ce contenu
⨯
Inscrivez-vous au blog
Soyez prévenu par email des prochaines mises à jour
Rejoignez les 10 autres membres