3 March at CoronaStavelot.com
E :
Hello global friends! Let's Do The Numbers
At the Johns Hopkins CSSE dashboard, things looked like this at 07:43:02 ...
(click any image to enlarge it) -
Next, we checked the world population at the Census Bureau's Population Clock.
Then, we entered these data in the CoronaStavelot Index database. Here are today's raw data and derived CSI:
Same as above as a PDF.
Results:
The CoronaStavelot Index (CSI) increased from yesterday, to 0.001191%. The CSI represents the best estimate of Total Confirmed Cases of COVID-19 (from Hopkins) on this date, at this time, ... divided by the best estimate of the Total World Population (Census bureau) at the same date and time.
One can express it as: "Total Confirmed Cases of COVID-19, represent 1.19 one-thousandths of 1% of the Total World Population." That's an estimate of prevalence in the global population.
Trends the last 5 days: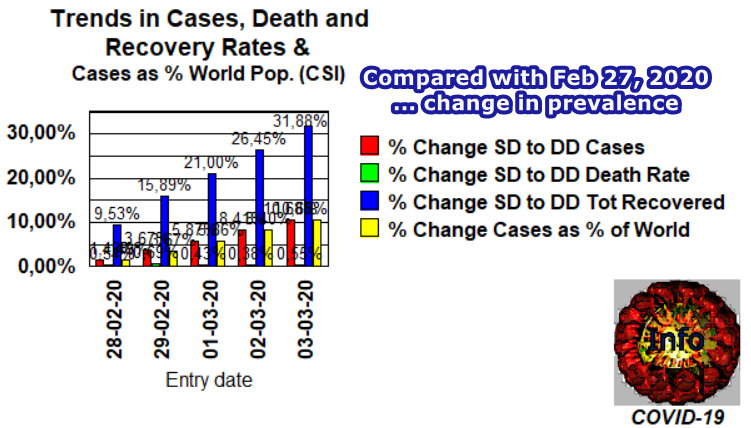 Trend Results :
("SD" = Start Date; "DD" = Data Date) Here the start date is February 27, and the DD = March 3).
When comparing today's results (Mar 3) with those of the start date, February 27:
The total number of confirmed cases of COVID-19 increased by 10.667%, currently involving 0.001191% of the world's population. Let us not forget that in "confirmed cases" are included the cured as well as mortalities.
The total number of deaths reported for COVID-19 increased by 0.546%, from a mortality rate of 3.409% on February 27 to 3.428% on March 3. This value (0.546%) has increased from yesterday's value of 0.378%. Deaths from COVID-19 represent 0.0000408% of the world's population. World population increased since yesterday by 1,060,590 inhabitants in the last 24 hours.
COVID-19 recovery: on February 27, 32,897 individuals or 40.038% of people infected with COVID-19 had recovered. On March 3, this figure is 48,017 or 50.627% of confirmed cases, have recovered. This is an increase in the recovery rate of 31.88% from the value on February 27.
Trends #2: for the last 5 days
These are once again, the changes in raw data, comparing today March 3, with a base date of observation, which began February 27, 2020. Added here, the trend in Recovery Rates Worldwide.
Trends #3 : this day only, March 3, to see more clearly when compared with Feb. 27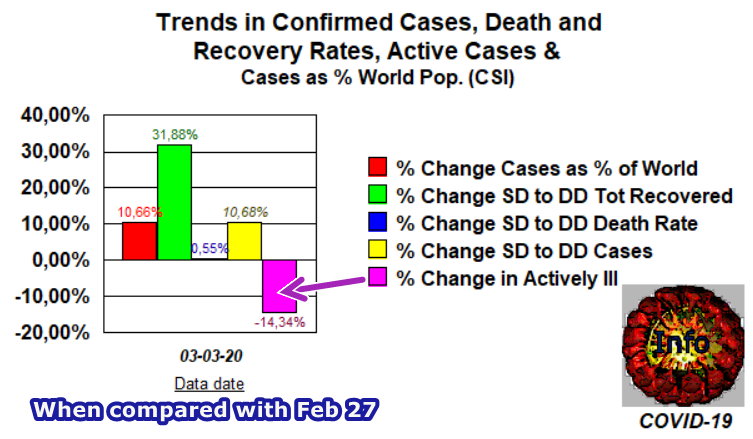 Results:
(red bar): the confirmed cases of COVID-19, corrected for the world population on the same day, compared with those of February 27, increased by 10.66%. This is "world prevalence."
(green bar): Total Recovery after COVID-19, compared with those of February 27, increased by 31.88%.
(blue bar): the Deaths due to COVID-19, compared with those of February 27, increased by 0.55% Yesterday this figure was 0.38%.
(yellow bar): the Confirmed Cases of COVID-19, compared with those of February 27, increased by 10.68%.
(purple bar): the number of people in the world Currently ill with COVID-19, compared with this value on February 27, diminished by -14.34%.
Interpretation:
COVID-19 Confirmed Cases continue to increase. Warning! included in "confirmed cases" are also those who are cured. Those who died as well. This figure suggests that the virus continues to spread. But at what speed? To give the right impression, the Actively Ill need to be presented. See below.
Those who have recovered continue to increase in number.
Deaths are few in number, and the death rate remains low and now seems to be decreasing though there was a miniscule "bump" up in the past 24 hours.
The number of people actively sick with COVID-19 worldwide continues to decrease.
Below : the days pass, Active Cases of COVID-19 decline ...
Current COVID-19 patients, by day of observation:
Here are the Days observed (6 at present) on the "X" axis
Here are the number of people Currently Sick with COVID-19, worldwide on the "Y" axis
R² = 0.92947, means: 93% of the value obtained for Currently Sick (Y), is explained by the number assigned on the same point on the curve, to the Observation Day (X). Same thing in reverse: the Observation Day value, determines 93% of the simultaneous value for Currently Actively Sick.
y = -1575.51 *

Ln

(X) + 43279, means that this relation between "Xs" and Ys " here, is logarithmic.
On this day, March 3, the figure calculated from Johns Hopkins raw data was 39,803 patients Actively Sick. The equation here predicts: 40,743. That's a prediction error of 2.362%. Not a bad fit. It looks like today's value fell below that predicted by the trend curve.
Today, the number of Active Patients with COVID-19 worldwide is declining faster than the logarithmic equation predicts. That seems like a good thing.
The figures presented here for global incidence or prevalence may not reflect COVID-19 events in your area. And I wrote that all by myself, without even seeking legal counsel.
That means ...
Here locally in Belgium: It may be a good day to look out through a closed window, but don't stick your nose out. Especially, not your nose.
The above map is yesterday evening's data. I'm awaiting an update from a government which currently in Belgium, doesn't exist at the present time (pending further negotiations).
Bear with me if I repeat yesterday's conclusions
"If this is beginning to work globally, why is this beginning to work?"
- People are getting the message about prevention
- People are becoming more aware of relative proximity of COVID-19 to them, and adjusting behavior accordingly.
- People are staying away from sick people
- People who are sick, are staying away from everyone else
- Those caring for the sick at home are practicing good isolation techniques
- Healthcare providers in hospitals and clinics, are practicing good isolation techniques, while providing care that is increasingly on target for COVID-19.
- People are avoiding contact with COVID-19 through travel, by not travelling
- People are avoiding contact with COVID-19 through crowds, by avoiding crowds and cancelling crowded events.
- People are avoiding contact with COVID-19 by working at home.
- People are beginning to understand that departing from the above behavior is a gamble. They are taking that gamble less and less often.
We should continue to encourage these behaviors globally, until COVID-19 is under control.
When things seem to change ...
It becomes all the more important as COVID-19 begins its approach where one is physically located. Remember yesterday's comment on tsunamis. Our reaction will depend on where we are, when looking at the tsunami as it passes.
First perspective: worldwide, active cases of COVID-19 are decreasing.
Second perspective: locally, the number of active COVID-19 cases is increasing.
Are both possible and at the same time? Absolutely yes.
One can elect to calculate prevalence worldwide, and be reassured or less scared.
One can elect to calculate prevalence for a given country. Italy and Iran: scary. Belgium: hopeful and calm this day.
Chosing what you take in, will modify your level of anxiety, or a corollary, your level of joy.
Probably best: Aware, Calm, Vigilant, Not foolhardy.
Here's why travel may be a bad idea:
From Italy : 14 cases of COVID-19, were exported to 24 countries :
China
Holland
Denmark
Nigeria
USA (GA, NH, MA)
Iceland
UK
Croatia
Israel
Romania
Spain
Austria
Algeria
Brazil
Finland
Switzerland
Macedonia
Greece
Estonia
Sweden
France
Germany
Netherlands
Lithuania
San Marino
All that without any trade agreements between the countries involved, for the COVID-19 product.
Then there's the government :
Here is a curbside Q&A session with Belgium's Health Minister, Maggie De Block. It's in French, but perhaps you're interested in having a look anyway. Here's the spoiler. She actually presents her opinion that this Coronavirus thing, is just like any other seasonal flu. Adding reassuringly, "we'll do what we have to do. We're already doing it. Just like we did in the past."
Here is one reason, why she might be a bit wrong, even if trying to reassure her public.
Kind, reassuring, not having (doubt that), or not sharing (more likely) the facts presented below. Only one component of the challenge COVID-19 presents.
Be well. Be prudent.
Most recent update ... at 12:24PM, and I translate ...
"The FPS Public Health reported on Tuesday five additional cases of infection with the new coronavirus in Belgium, binging the total number of infected persons to 13. The reference laboratory of the KULeuven carried out 243 tests during the night and these revealed five new cases of infection.

All of these new cases are people returning from a trip to northern Italy. Patients have the same moderate symptoms such as fever, cold and cough. Two patients live in Flanders, one patient comes from Brussels and two others are in Wallonia. They received the necessary care in a secure environment."
Be well. Be prudent.
Membres qui aiment ce contenu
⨯
Inscrivez-vous au blog
Soyez prévenu par email des prochaines mises à jour
Rejoignez les 5 autres membres