22 March at CoronaStavelot.com
E :

World COVID-19 data this day
(cet article, mais en français)
Now here's a question ...
Q: "Why keep doing this now?"
Ans: "Because we'll all be so happy when we get on the downward slope of the curve."
"OK. I'm gonna look at the numbers below. I can take it. Hit me with 'em."
Have you started talking to the virus yet?
"OK, we get it. We're impressed by your accomplishments. You're the King of all the viruses. Now can you just stop it? Just stop it!"
From Johns Hopkins CSSE
171 countries of the world, sample by Johns Hopkins CSSE
World Population (to allow calculation of world prevalence of COVID-19) :
Raw and Derived Data :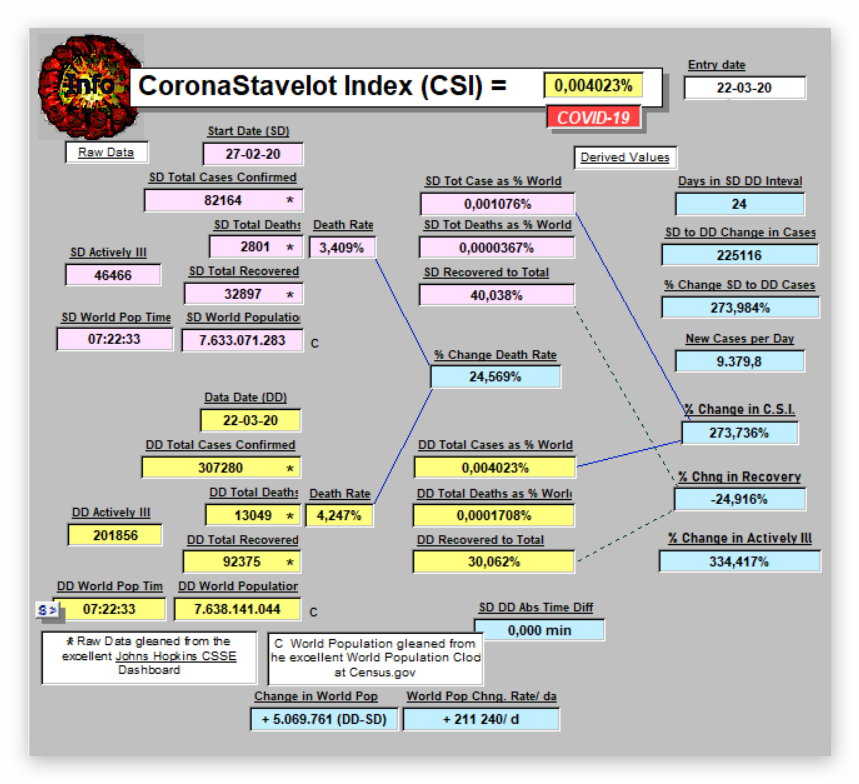 Above Raw and Derived data, as PDF
Results:
The CoronaStavelot Index (CSI) increased from yesterday,0.003202%, to today's value of 0.004023%. That's a 25.64% increase in prevalence around the world. Yesterday that increase was 12.62%.
The CSI represents the best estimate of Total Confirmed Cases of COVID-19 (from Hopkins) on this date, at this time, ... divided by the best estimate of the Total World Population (Census bureau) at the same date and time.
One can express it as: "Total Confirmed Cases of COVID-19, represent 4.02 one-thousandths of 1% of the Total World Population." That's an estimate of prevalence of confirmed cases of coronavirus in the global population.
Trends #1
From Feb 27 to today, Mar 22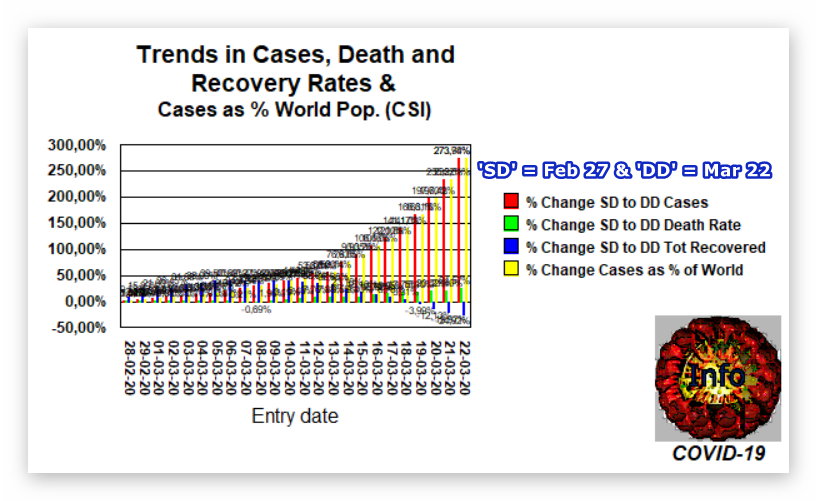 Trends #2
Trends #3
In the last week ...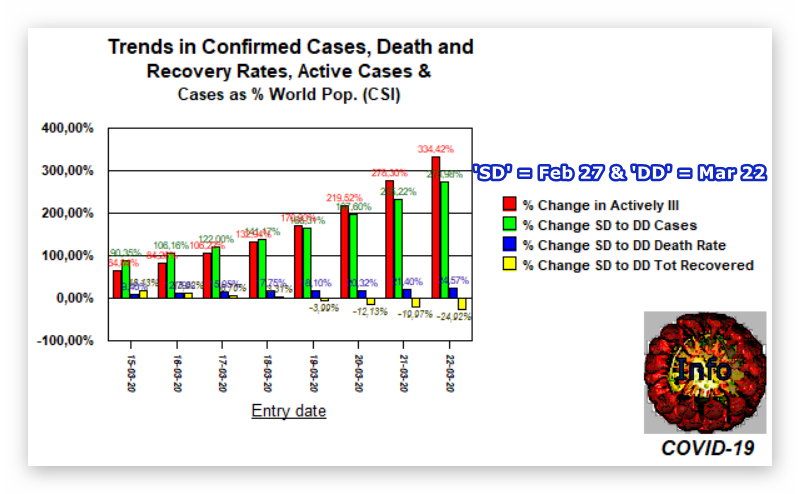 Trends #4
Today ...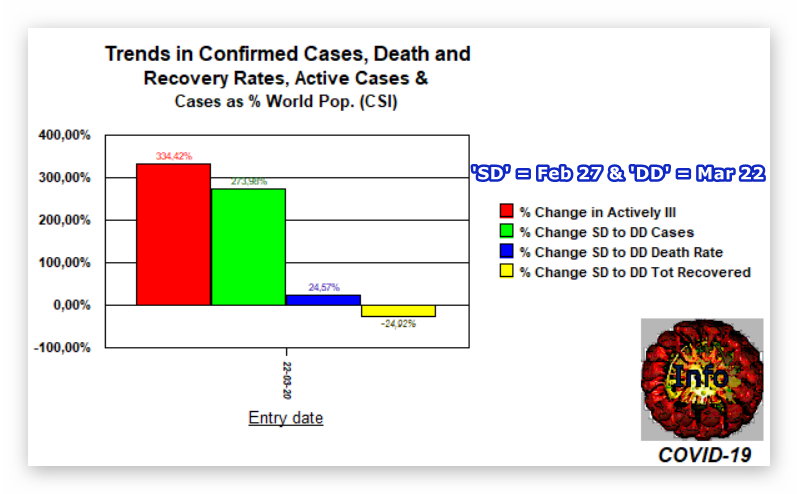 Results:
(red bar): the number of people in the world Currently ill with COVID-19, compared with this value on February 27, increased by 342.42%. Yesterday's value: 278.30%. (More people Actively Sick at present, when compared with 27 February, and more people sick than yesterday).
(green bar): the Confirmed Cases of COVID-19, compared with those of February 27, increased by 273.74%. Yesterday's value: 235.22%. This is the change in "world prevalence."

(This counts the cases, independent of current status or final outcome. i.e., it includes thos who have died and recovered from their illness).

(blue bar): the Deaths due to COVID-19, compared with those of February 27, increased by 24.57% Yesterday this figure was lower at 21.40%.
(yellow bar): Total Recovery after COVID-19, compared with those of February 27, decreased by -24.916%, less than yesterday's value of -19.971%, and the value the day before, -12.131%. New active cases are outpacing the rate of recovery, but people are still recovering.
Interpretation:
COVID-19 Confirmed Cases continue to increase. At present, 9,380 new cases per day, up from 1,225 new cases per day on Feb 28, and more than the 8,403 new cases per day, yesterday. Note! This includes those who have recovered and those who died.

Those who have Recovered continue to increase in number. (Today: 92,375, Yesterday : 88,256 Feb 27 : 32,897) If the above value for rate of Recovery is negative (-24.916), it reflects a rate lower than on Feb. 27, since the number of actively ill is increasing rapidly at present. But COVID-19 patients are continuing to recover worldwide.

Death rate worldwide is at 4.247% of confirmed cases, compared with that value on February 27 of 3.409%, and yesterday's value of 4.139%. That variable increased 2.61% since yesterday, (0.902%) and increased 24.57% since Feb 27. Again, this is an overall figure, and varies greatly from one country to the next.
The number of people Actively Sick with COVID-19 worldwide (201,856 today), increased 14.84% since yesterday, (175,779). Yesterday this increase was 18.40%, and the day before was 17.93%. There is starting to appear some wobble in this rate of change. These rates of increase show a gradual but consistent increase in active cases at this time, worldwide. This figure Feb. 27 was 46,466. With 201,856 Actively Sick today, that's 334.42% above the value on Feb. 27, (4.344 times that value) more than quadrupling in the interval.
Change in number of Active Cases
Interpretation
The number of Actively Sick with COVID-19 continues to increase worldwide.
This value of Actively Sick has now more than quadrupled (4.3x) to 334% above that value on February 27.
Number of actual Actively Sick calculated from the Johns Hopkins data this morning, is 201,856 worldwide. The equation predicts for this day: 198,070.
This third order polynomial or quadratic relationship defines the data up to today quite well, (on target 99.70% of the time) with an error in this estimate of -1.875%, slightly below actual cases.
It suggests that if nothing changes in the variables that determine those Actively Sick worldwide, this value will be at 226,207 tomorrow.
Yesterday, (see result in yesterday's article) the % error was -3.098% below reported value. Today, % error is -1.875%, a more accurate prediction though slightly below the reported value.
In PlainSpeak ...
At the present time, those Actively Sick with COVID-19 worldwide continue to increase in number, ((201,856) now 155,390 above the level observed February 27 (46,466) when we began to follow these events 25 days ago.
Prevalence ( how much disease burden by country? ) - sample of 23 countries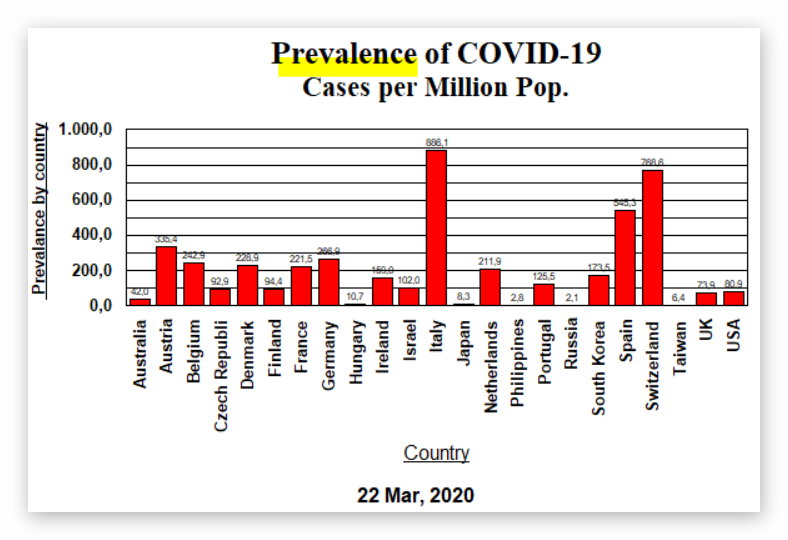 Here's the sorted list of prevalence for this sample of 23 countries. All values are current as of this morning, Sunday, March 22, 2020.
Most will recover. If not soon, eventually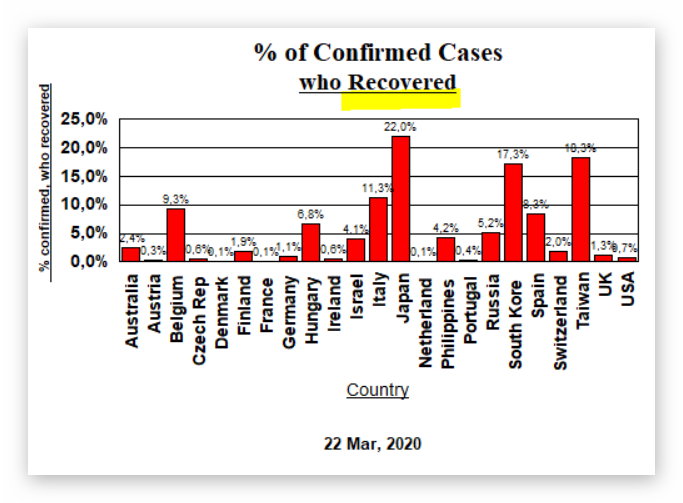 But some will stay behind. Affirming it was not a dream.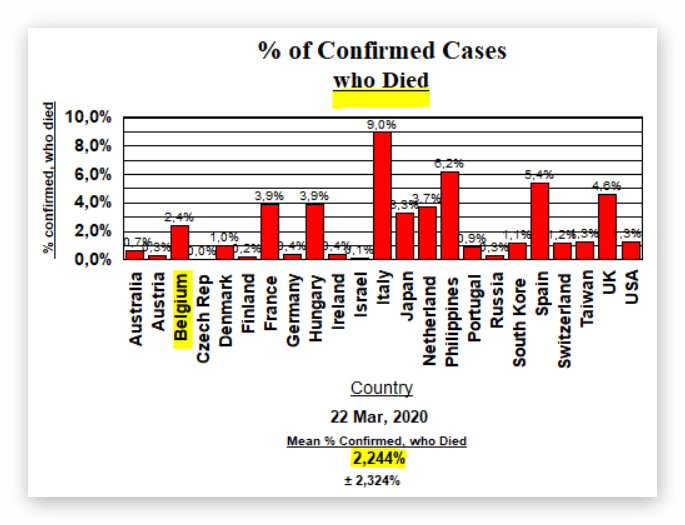 Those Actively Sick with COVID-19 (79.6% mild; 13.6% severe; 4.9% critical), in these 23 countries.
Time to continue your list of the positives arising from all of this. Here are my entries :
Less debate and argument; more Solidarity.
Reduction in CO2 and greenhouse gases.
Decide to just get up and go nowhere.
Time for expression: write a poem.
Notice: where I live, the move towards Spring is well under way (green and growing).
Moments of humor, when laughing happens spontaneously. Even when alone.
Flowers from the garden, placed in a vase as a reminder of life, each time I pass. Looking closely.
Greeting the deer who come down in the morning to see how we're doing and where we've been.
An opportunity still exists for taking a nice warm bath. And this day, no rush.
Membres qui aiment ce contenu
⨯
Inscrivez-vous au blog
Soyez prévenu par email des prochaines mises à jour
Rejoignez les 13 autres membres