19 March at CoronaStavelot.com
E :

World COVID-19 data this day
(cet article, mais en français)
From Johns Hopkins CSSE
Notice that the above graphic report includes data from 158 countries or regions sampled.
World Population (to allow calculation of world prevalence of COVID-19) :
Raw and Derived Data :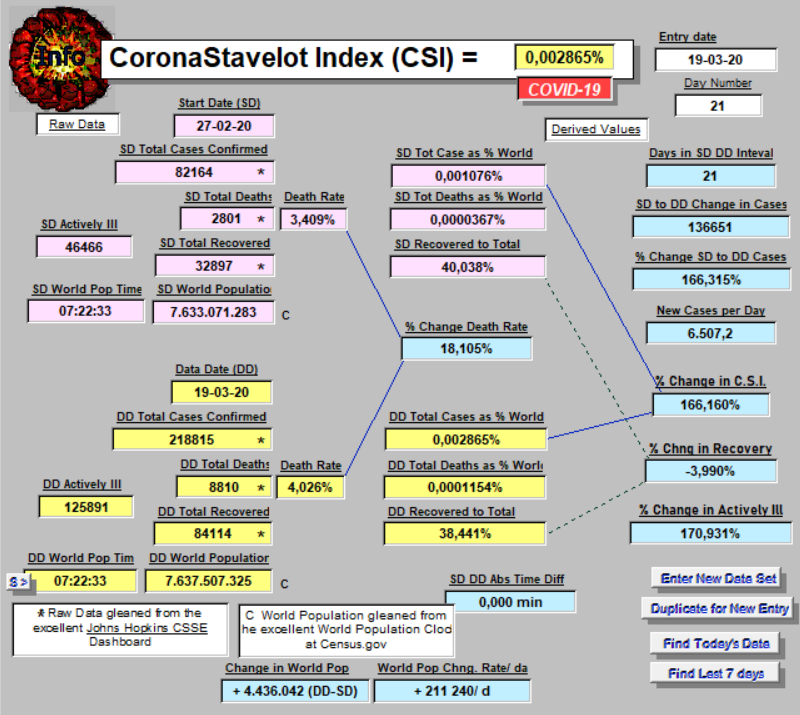 Above Raw and Derived data, as PDF
Results:
The CoronaStavelot Index (CSI) increased from yesterday, 0.002595%, to today's value of 0.002865%. That's an 10.41% increase in prevalence around the world. Yesterday that increase was 8.67%.
The CSI represents the best estimate of Total Confirmed Cases of COVID-19 (from Hopkins) on this date, at this time, ... divided by the best estimate of the Total World Population (Census bureau) at the same date and time.
One can express it as: "Total Confirmed Cases of COVID-19, represent 2.87 one-thousandths of 1% of the Total World Population." That's an estimate of prevalence of confirmed cases of coronavirus in the global population.
Trends #1
From Feb 27 to today, Mar 19
Trends #2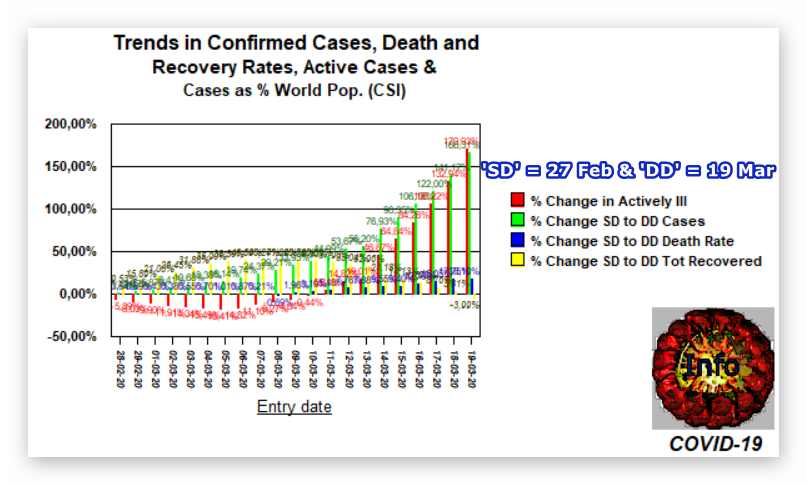 Trends #3
In the last week ...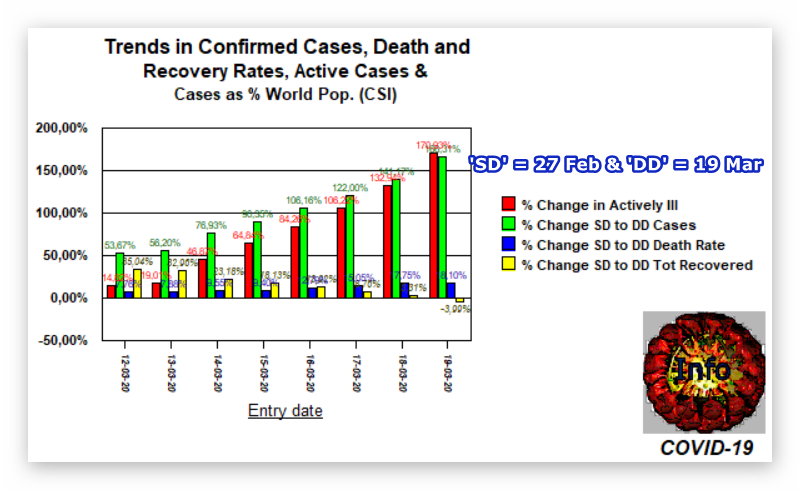 Trends #4
Today ...
Results:
(red bar): the number of people in the world

Currently ill

with COVID-19, compared with this value on February 27, increased by 170.93%. Yesterday's value: 132.94%. (More people Actively Sick at present, when compared with 27 February, and more people sick than yesterday).
(green bar): the

Confirmed Cases of COVID-19

, compared with those of February 27, increased by 166.32%. Yesterday's value: 141.03%. This is the change in "world prevalence."

(This counts the cases, independent of current status or final outcome. i.e., it includes thos who have died and recovered from their illness).

(blue bar): the

Deaths

due to COVID-19, compared with those of February 27, increased by 18.11% Yesterday this figure was lower at 17.75%.
(yellow bar):

Total Recovery

after COVID-19, compared with those of February 27, decreased by -3.990%, less than yesterday's value of 3.307%, and the value the day before, 8.764%. This is the first day that this value is negative, a lower Recovery Rate than that of February 27.
Interpretation:
COVID-19

Confirmed Cases are increasing

. At present, 6,507 new cases per day, up from 1,225 new cases per day on Feb 28, and more than the 5,799 new cases per day, yesterday. Note! This includes those who have recovered and those who died.

Those who have

Recovered continue to increase

in number. (Today: 84,114, Yesterday : 81,960 Feb 27 : 32,897) If the above value for rate of Recovery is negative, it reflects a rate lower than on Feb. 27, since the number of actively ill is increasing rapidly at present. But COVID-19 patients are continuing to recover worldwide.

Death rate

worldwide is at 4.026% of confirmed cases, compared with that value on February 27 of 3.409%, and yesterday's value of 4.014%. That variable increased 0.299% since yesterday, and increased 18.10% since Feb 27. Again, this is an overall figure, and varies greatly from one country to the next.
The number of people

Actively Sick with COVID-19

worldwide (125,891 today), increased 16.31% since yesterday, (108,238). Yesterday this increase was 12.96%, and the day before was 11.92%. These rates of increase show a gradual but consistent increase in active cases at thia time, worldwide. This figure Feb. 27 was 46,466. With 125,891 Actively Sick today, that's 170.93% above the value on Feb. 27, (2.71 times that value) almost tripling.
Change in number of Active Cases
Interpretation
The number of

Actively Sick with COVID-19 continues to increase worldwide

.
This value of Actively Sick has now almost tripled (2.7x) to 171% above that value on February 27.
Number of actual Actively Sick calculated from the Johns Hopkins data this morning, is 125,891 worldwide. The equation predicts for this day: 124471.
This third order polynomial or quadratic relationship defines the data up to today quite well, (on target 99.7% of the time) with an error in this estimate of -1.128%, slightly below actual cases.
It suggests that if nothing changes in the variables that determine those Actively Sick worldwide, this value will be at 141,185 tomorrow.
Yesterday, (see result in yesterday's article) the % error was +0.281% above reported value. Today, % error is -1.128% with predicted being slightly below the reported value. These are small differences in error of estimation. This again suggests that as more data are added, the fit to the curve improves.
In PlainSpeak ...
At the present time, those Actively Sick with COVID-19 worldwide continue to increase in number, (125,891) now 79,425 above the level observed February 27 (46,466) when we began to follow these events 20 days ago.
Our hopes, prayers, and words of encouragement go out to all those who are feeling poorly this day due to COVID-19. To those who have lost family members, sincere condolences. And to those who have recovered, stay well. You must feel relieved, and we take courage from your success.
Prévalence ( how much disease burden ? ) - sample of 23 countries
Most will recover. If not soon, eventually
But some will stay behind. Affirming it was not a dream.
Time to start your list of the positives arising from all of this. Here are my first entries :
Less debate and argument; more Solidarity.
Reduction in CO2 and greenhouse gases.
Decide to just get up and go nowhere.
Time for expression: write a poem.
Notice: where I live, the move towards Spring is well under way (grren and growing).
BALANCE & PERSPECTIVE
( a game of Forest versus Trees)
Mortality Data since January 1, 2020
8,810 : COVID-19 (coronavirus)

- this day March 19,2020
69,602 : Common Cold (adenovirus & others)
140,584 : Malaria
153,696 : Suicide
193,479 : Road Traffic Accidents
240,950 : HIV
Source : University of Hamburg, Germany
Membres qui aiment ce contenu
⨯
Inscrivez-vous au blog
Soyez prévenu par email des prochaines mises à jour
Rejoignez les 13 autres membres