1 mars (1 March)
F :
(In English, below on this page ...)
Bonjour les amis mondiaux! Faisons les chiffres ce premier jour du mois
Au tableau de bord CSSE de Johns Hopkins, les choses ressemblaient à ceci ce matin ...
- (cliquez l'image pour l'agrandir) -
Ensuite, nous avons vérifié la population mondiale à l'horloge démographique du Bureau du recensement. Ceci à 07:22:33, et la même approche pour les données du tableau de bord de Hopkins. Mais ce dernier (ci-dessus), présente ses données de 05:03:05 ce matin de notre heure. Voici la population estimée ce matin:
Ensuite, cette page mythique qui fait le calcul de l'indice CoronaStavelot (CSI) et bien d'autres choses intéressantes :
Le même rapport, en PDF, comme d'habitude.
Résultats :
L'indice CoronaStavelot (CSI) est à 0,001139%. Encore une fois, le CSI représente la meilleure estimation du nombre total de cas confirmés de COVID-19 à cette date, à 7h22 ce matin, ... divisé par la meilleure estimation de la population mondiale totale à la même date et heure. On peut l'exprimer comme suit: "Le nombre total de cas confirmés de COVID-19, représente 1,14 millièmes de 1% de la population mondiale totale".
Tendences les 3 derniers jours: n°1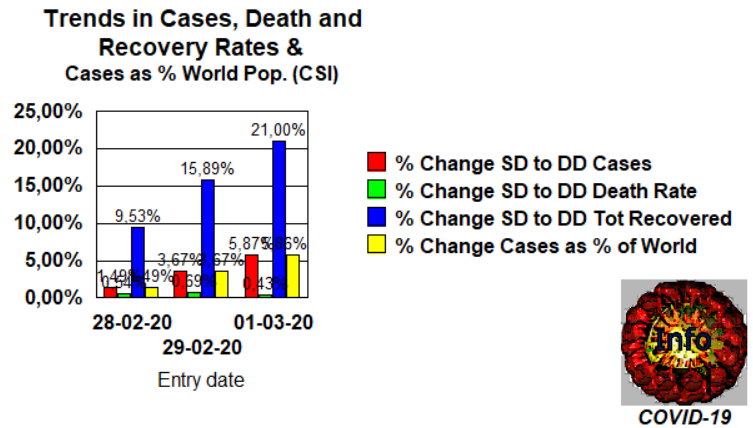 Résultats des tendances:
("SD" = Date de début; "DD" = Date des données) Ici, la date de début est le 27 février et le DD = 1 mars).

En comparant les résultats d'aujourd'hui (1 mars) avec ceux de la date de début, 27 février:
Le nombre total de cas confirmés de COVID-19 a augmenté de 5,87%, impliquant actuellement 0,001139% de la population mondiale. Noublions pas que dans "cas confirmés" sont inclus les guéris.
Le nombre total de décès signalés par COVID-19 a augmenté de 0,429%, passant d'un taux de mortalité de 3,409% le 27 février à 3,424% le 1 mars. Cette valeur à diminuéz depuis hier. Les décès dus à COVID-19 représentent 0,0000390% de la population mondiale. Cette population augmente de 211.248 personnes au monde par jour, net.
Récupération de COVID-19: le 27 février, 40,038% des personnes infectées par COVID-19 se sont rétablies. Le 1 mars, ce chiffre est de 48,445%, ont récupéré. Il s'agit d'une augmentation du taux de récupération de 20,997% par rapport à la valeur du 27 février.
Tendences les 3 derniers jours: n°2 (avec une ajoute en mauve)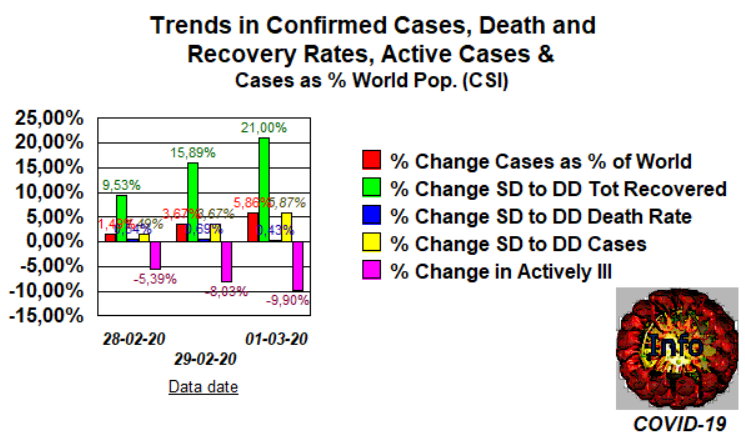 Tendences ce jour, simplifié: n°3
Résultats :
(barre rouge) : les cas confirmés de COVID-19, corrigés pour la population mondiale le même jour, comparés avec ceux du 27 février, ont augmentés de 5,86%.
(barre jaune) : les guérisons après COVID-19, comparés avec ceux du 27 février, ont augmentés de 21,997%.
(barre bleu) : les décès dûs au COVID-19, comparés avec ceux du 27 février, ont augmentés de 0,429% Hier ce chiffre était 0,693%.
(barre jaune) : les cas confirmés de COVID-19, comparés avec ceux du 27 février, ont augmentés de 5,87%.
(barre mauve [une nouvelle barre]) : le nombre de personnes dans le monde, malade à l'instant avec COVID-19, comparé avec cette valeur du 27 février, est diminué de 9,90%.
Interprétation :
le COVID-19 continue à compter plus de cas confirmés. Attention! inclus dans "cas confirmés" ceux qui sont guéris. Ceux qui sont mort aussi. Par ce chiffre, le virus continue à se propager. Mais à quelle vitesse?
Les guéris augmentent.
Les décès sont peut en nombre, et le taux de décès reste bas et semble maintenant de diminuer. Si on se trouve parmi ces morts, les statistiques n'intéressent plus ou beaucoup moins.
Le nombre de personnes activement malades avec COVID-19 dans le monde, continue à diminuer.
Un tableau pour étudier cette diminution apparente ...
Des choses amusantes à faire avec les chiffres :
Voici le nombres de jours observés (pas beaucoup, 4) sur l'axe "X"
Voici le nombres de personnes Actuellement Malades avec COVID-19, mondialement sur l'axe "Y"
R² = 0,97987, veut dire : 98% de la valeur obtenu pour les Actuellement Malade (Y), est expliqué par le chiffre assigné sur le mêm point sur la courbe, au Jour d'Observation (X).
y = -1303,3*Ln(X) + 43591, veut dire que cette relation entre les "Xs" et les Ys" est logarithmic.
Oho ... et même plus, qui si vous me donnez le Jour d'Observation, je peux vous dire (et même prédire, mais c'est très dangereux!) le nombre de malades actuel. Ce jour le chiffre offert par Johns Hopkins était 41.866 malades. L'équation ici nous prédit: 42.159. C'est une erreur de prédiction de 0,69985% qui est déjà, pas trop mal comme estimation de la réalité. Bien sûr, avec plus de jours d'observation, cette estimation devrait devenir encore plus précis.
Ces données suggèrent que dans la guerre entre COVID-19 et l'humanité, COVID-19 commence à perdre. Mais si on se retrouve dans la dernière des batailles de cette guerre, cet environnement est toujours dangereux. Les balles sifflent toujours. "Achoouumm!" Que faire s'y on s'y retrouve dans les tranchées? On y reviendra sans faute.
Tsunami
Le moment où un tsunami est sur le point de se propager sur votre emplacement, c'est quand il est le plus susceptible d'attirer votre attention.

Où cette vague était il y a 2 jours, ou hier, semble soudain avoir beaucoup moins d'intérêt.
Et quand vous le voyez venir, ça a l'air très, très gros, très haut. Peut-être plus gros qu'il ne l'est.

Imaginez ...
Il y a deux jours dans l'actualité: regardez ce que toute cette eau a fait à tous ces pauvres.
On commence à se préparer mentalement.
Mais au moment de son arrivé: merde! Regardez toute cette maudite eau !!
La préparation n'est plus possible. Soit vous vous êtes éloigné, soit vous ne l'avez pas fait.
Y a-t-il des parallèles pour l'avancée de COVID-19?
Je le pense.
Une grande partie des observations faites est fonction de la position de l'observateur.
Être dans un hélicoptère en mer au passage du tsunami et regarder vers la plage.
C'est là où l'on aimerait être. Être témoin dans notre bulle protégée de la dévastation sur la plage, avec empathie pour ceux qui restent, mais sans ressentir la douleur soi-même.
Et une vague de tsunami ne monte pas à la même hauteur, en passant sur et autour de chaque île sur son chemin.
Ensuite, le cerveau se met au travail pour créer nos innombrables réactions émotionnelles.
Voici un exemple stupide mais réel: développer un sentiment de culpabilité pour avoir été dans notre hélicoptère, au lieu de rester à l'hôtel sur la plage avec tous les autres qui ont péri.
"Pourquoi moi, Seigneur? Pourquoi ai-je été choisi?"
Pareil pour COVID-19?
Je le pense.
Quand un tsunami se produit dans notre monde aujourd'hui, assez rapidement, ceux qui ne l'ont pas encore vu arriver, mais qui sont sur son chemin, reçoivent la nouvelle. Et ils commencent à se préparer. Ils se déplacent vers des altitudes plus élevées. Ou avec des ouragans: ils calfêutre leur maison et se cachent.
Alors que le tsunami s'abat, éloignez-vous.
Ne perdez pas de temps à penser à celui de vos maillots de bain, vous devriez porter ce jour-là.
Ceci n'est pas le moment de perdre la raison, simplement parce que beaucoup du monde le fait.
Lorsque les lemmings se dirigent vers la falaise, mettez-vous de côté un instant, et réfléchissez à nouveau.
Pareil pour COVID-19?
Je le pense.
Mais n'est-ce pas intéressant? Comparez les preuves du niveau d'anxiété croissante (comportement de magasinage local fou, par exemple) que vous avez ressenti lorsque la "vague" traversait les maisons de nos amis humains en Chine, avec les niveaux d'anxiété que vous ressentez maintenant, quand la "vague" de COVID-19 (qui semble en réalité déjà beaucoup moins grande) s'installe dans nos propres quartiers.

Le phénomène "je, moi, le mien, à moi ça" est une étude en soi.
Certains le relieront aux thèmes de la survie et des instincts de la jungle.
D'autres lieront le résultat à la compassion ou son absence.
La compassion, c'est agir pour quelqu'un d'autre, quand cette personne ne peut plus le faire pour lui/ elle-même.
Restez calme.
Restez clair dans vos pensées.
Restez protégé.
Espérez le mieux.
Comptez là-dessus.
<<<<<<<<<<< retour à l'Acceuil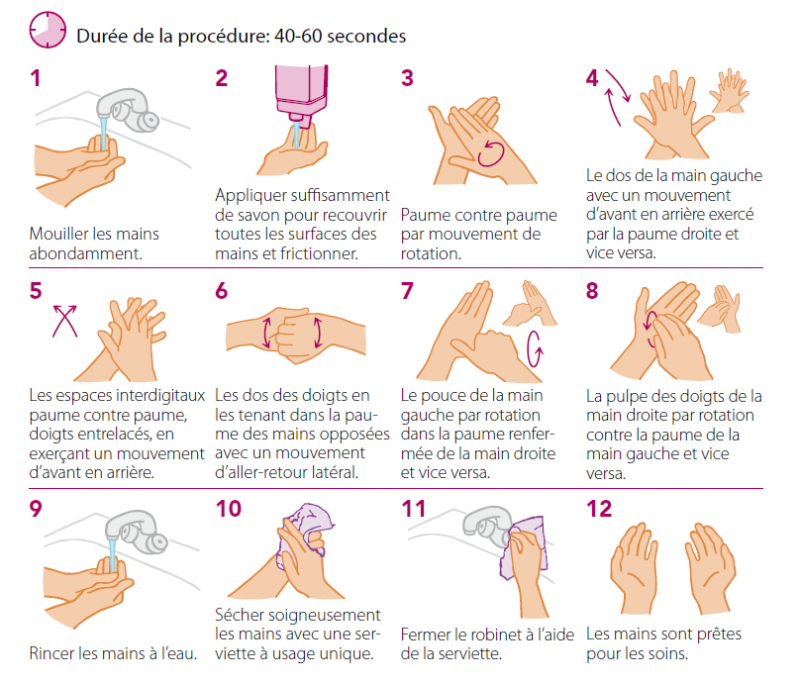 E :
Hello global friends! Let's Do The Numbers
At the Johns Hopkins CSSE dashboard, things look like this at this very moment, 07:22:33 ...
- (click any image to enlarge it) -
Next, we checked the world population at the Census Bureau's Population Clock. We did this as close as possible, to 24 hours after doing this the last time, at 07:22:34, and the same approach for the dashboard data from Hopkins.
Next, we entered these data in the CoronaStavelot Index database. Here's today's CSI:
The same as above in PDF.
Results:
The CoronaStavelot Index (CSI) is at 0.001139%. The CSI represents the best estimate (from Hopkins) of Total Confirmed Cases of COVID-19 on this date, at this time, ... divided by the best estimate of the Total World Population (Census bureau) at the same date and time.
One can express it as: "Total Confirmed Cases of COVID-19, represent 1.14 one-thousandths of 1% of the Total World Population."
Trends the last 3 days: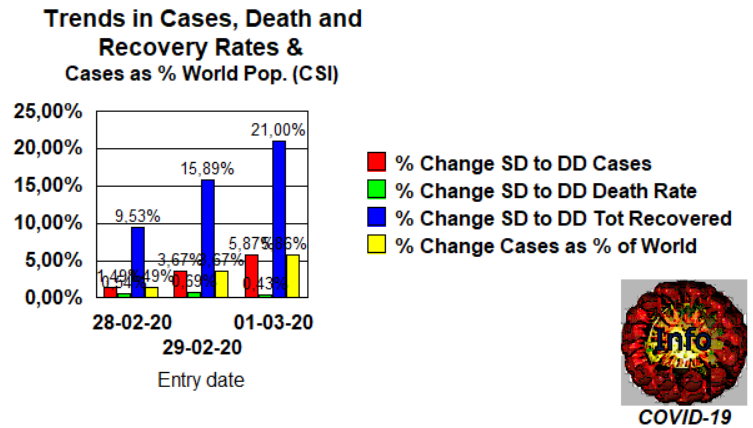 Trend Results :
("SD" = Start Date; "DD" = Data Date) Here the start date is February 27, and the DD = March 1).
When comparing today's results (Mar 1) with those of the start date, February 27:
The total number of confirmed cases of COVID-19 increased by 5.87%, currently involving 0.001139% of the world's population. Let us not forget that in "confirmed cases" are included the cured.
The total number of deaths reported for COVID-19 increased by 0.429%, from a mortality rate of 3.409% on February 27 to 3.424% on March 1. This value has decreased since yesterday. Deaths from COVID-19 represent 0.0000390% of the world's population. That population figure currently increases by a net 211,248 people added to the world per day.
COVID-19 recovery: on February 27, 40.038% of people infected with COVID-19 recovered. On March 1, this figure is 48.445%, have recovered. This is an increase in the recovery rate of 20.997% from the value on February 27.
Trends #2: for the last 3 days (with an addition in purple)
Again, these are not raw data. These are the changes in those data, when compared with a base date of observation beginning on February 27.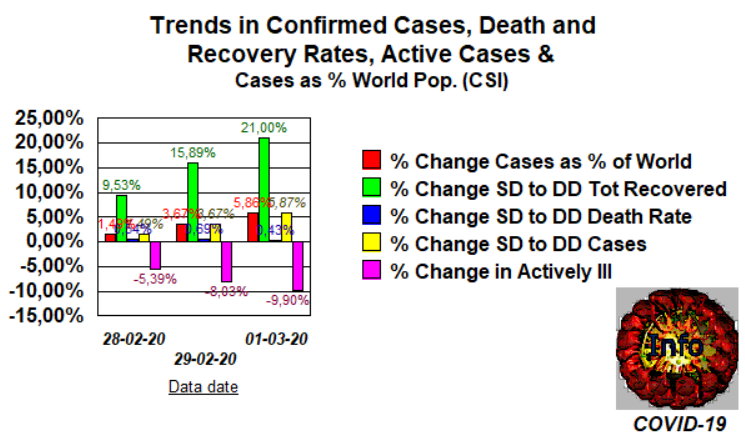 Trends #3 : this day only, to see more clearly, compared with Feb. 27
Results:
(red bar): the confirmed cases of COVID-19, corrected for the world population on the same day, compared with those of February 27, increased by 5.86%.
(yellow bar): Total Recovery after COVID-19, compared with those of February 27, increased by 21.997%.
(blue bar): the Deaths due to COVID-19, compared with those of February 27, increased by 0.429% Yesterday this figure was 0.693%.
(yellow bar): the Confirmed Cases of COVID-19, compared with those of February 27, increased by 5.87%.
(purple bar [a new bar]): the number of people in the world, Currently ill with COVID-19, compared with this value on February 27, diminished by 9.90%.
Interpretation:
COVID-19 Confirmed Cases continue to increase. Warning! included in "confirmed cases" are also those who are cured. Those who died as well. This figure suggests that the virus continues to spread. But at what speed? To give the right impression, the Actively Ill need to be presented. See below.
Those who have recovered continue to increase in number.
Deaths are few in number, and the death rate remains low and now seems to be decreasing. If one is among these dead, the statistics are of little or no interest.
The number of people actively sick with COVID-19 worldwide continues to decrease. Yes, I just wrote that.
A graph to study this apparent decrease ...
Fun things to do with numbers:
(Its's nice when a graph like this has gillions of little black dots all over it, all in a line. This one doesn't yet).
Here are the Days observed (not many, 4) on the "X" axis
Here are the number of people Currently Sick with COVID-19, worldwide on the "Y" axis
R² = 0.97987, means: 98% of the value obtained for Currently Sick (Y), is explained by the number assigned on the same point on the curve, to the Observation Day (X). Same thing: the Observation Day value, determines 98% of the simultaneous value for Currently Actively Sick.
y = -1303.3 * Ln (X) + 43591, means that this relation between "Xs" and Ys " here, is logarithmic.
Wow! ... and even more; if you give me the Day of Observation, I can tell you (and even predict, but that's very, very dangerous business!) the number of Currently Sick patients present on that day.
On this day, March 1, the figure calculated from Johns Hopkins raw data was 41,866 patients Actively Sick. The equation here predicts: 42.159. That's a prediction error of 0.69985% which is already, not too bad as an estimate of reality. Of course, with more days of observation, this estimate should become even more precise.
These data suggest that in the war between COVID-19 and humanity, COVID-19 is beginning to lose.
But if we find ourselves in the last battle of this war, that environment remains equally dangerous. The bullets are still whistling: "Achoouumm!"
What should one do if still in the trenches on that last day of war?
We will return to that soon.
Tsunami
The moment when a tsunami is about to bear down on your location, is when it is most likely to catch your attention.
Where that wave was 2 days ago, or yesterday, seems suddenly to have much less interest.
And when you see it coming it looks very, very big. Perhaps bigger than it is.
Two days before in the news: look at what all that water did to all those poor people.
One begins to prepare mentally.

Right now: Holy shit! Look at all that damn water!!
Preparation is no longer possible. Either you get out of its way, or you don't.
Are there parallels for the advance of COVID-19?
I think so.
A large part of the observations made, is a function of where the observer is standing. Being in a helicopter out at sea as the tsunami passes, and looking towards the beach. That's where one would like to be. To witness the devastation on the beach, with empathy for those left behind, but without feeling the pain oneself.
And a tsunami wave does not rise to the same height, on passing over and around each island in its path.
Predictably, the brain next goes to work to create our myriad emotional reactions.
Here's one silly but real example: developing a sense of guilt for having been in our helicopter, instead of staying at the hotel on the beach with all the others who perished. "Why me Lord? Why did you chose me to be a survivor? What are you asking of me?"
Same for COVID-19?
I think so.
When a tsunami arises in our world today, fairly soon, those who have not seen it arrive yet, but who are in its path, get the news. And they begin to prepare. They get to higher ground. Or with hurricaines: they board up their houses and hunker down.
Same for COVID-19?
I think so.
But isn't it interesting? Compare the evident level of mounting anxiety (mad local shopping behavior, for instance) that you felt when the "wave" was moving through the homes of our fellow humans in China last January, with levels of anxiety you feel now, as the "wave" (which seems already actually much less tall) moves in on your neighborhood.

The "I, me, mine" phenomenon is a whole study in itself. Some will link it to themes of survival and jungle instincts.
Others will link the finding to compassion. Compassion is taking action for someone else, when that person no longer can.
Stay calm.
Stay clear in one's thoughts.
Stay protected.
Hope for the best.
Count on it. Make it happen.
Preparation and the Forest and Trees perspective
Now is not the time to lose one's wits, just because everyone else is.
When the lemmings head for the cliff, step aside and think again.
As the tsunami bears down, get out of the way.
Don't waste time thinking about which of your bathing suits you should wear that day, and how much solar cream is left.
"Nice. But what am I to do practically?"
More on this later, but here's one example of the "Living CONVID-19" perspective in action.
Remember: Your enemy here, if you chose to view it that way, is the person who is actively ill.
Avoid contact with that person. How do you identify that person? She's probably not wearing black silk pajamas and a pointed straw hat. Maybe she's wearing a mask. But maybe you are too.
So how do you avoid contact with this person?

Don't travel. I said: Don't travel. Stay home. Avoid crowds. Even friendly shoppers in line at Shoppers Food Warehouse.
If she looks sick, assume she is. Stay away.

If you MUST bring her some chicken noodle soup (in a throw away cardboard bowl with plastic spoon), wear gloves, and a mask. Wear a mask in that setting no matter what CDC says. They're hoarding masks for healthcare providers. You just became a healthcare provider.

When you leave her presence, wash your hands the right way, immediately.

When she calls to say she's done with the soup, put on gloves and mask. Open a trash bag.
Go back to her room and carry out the soup bowl and spoon without staying to discuss if the soup was good and if she liked it.
Throw bowl and spoon in trash, remove and throw mask in trash (only if you have lots of them, otherwise place in designated keeper box), remove gloves and shoot them into the bag. Close the bag.
Wash your hands the right way, immediately. Stop touching your eyes, nose, and mouth so much throughout the day.
Enjoy some soup as a reward for your good work and perfect isolation technique.
What? You think I'm kidding you?
This is essential behavior for as long as you're in the trenches caring for someone else.
If that's not the case, other suggestions will follow in another article which I'll link to.
Remember today's positive data results and interpretation, and spread it around.
At least one person seems to think that the number of people sick with COVID-19 worldwide, is starting to diminish. That would be me.
If you're nevertheless feeling "in the trenches," stay calm.
Membres qui aiment ce contenu
⨯
Inscrivez-vous au blog
Soyez prévenu par email des prochaines mises à jour
Rejoignez les 13 autres membres